Table of Contents
---
Chapter 9

I Introduction

II The Australian Chemical Industry

III Pharmaceuticals

IV Chemists In Other Industries

V The Dawn Of Modern Chemical Industry - High Pressure Synthesis

VI The Growth Of Synthetic Chemicals - Concentration, Rationalisation And International Links

VII Australian Industrial Chemical Research Laboratories

VIII The Plastics Industry
i Plastics processing
ii Phenol - basis of the first plastic
iii Plastics - the first generation
iv Plastics - the second generation - from petrochemicals
v Styrene monomer - the West Footscray petrochemical complex
vi The Botany petrochemical complex
vii The petrochemical complex at Altona
viii CSR - from sugar alcohol to petrochemical OXO alcohol

IX The Paint Industry

X Acknowledgements

References

---
Index
Search
Help
Contact us

CSR - from sugar alcohol to petrochemical OXO alcohol
The story of CSR-Chemicals Pty. Ltd.[125] began on the eve of the Second World War, in 1939, when CSR acquired a minor share holding in Robert Corbett Pty. Ltd., an Australian company which at that time had plans for new chemical products based on CSR'S molasses and ethanol.

During the war CSR pioneered a number of chemical processes, as discussed on p 659: acetone from ethanol, Vitamin C from sugar and power alcohol in specially built grain distilleries. These undertakings required a sizeable research and technical team and, as the war came to its close, research was directed to the manufacture of chemicals from ethanol. This was supplemented by pilot plants and overseas visits to gather technical information on the manufacture of acetic acid, acetic anhydride, cellulose acetate flake and cellulose moulding powder.

In 1946/7 CSR developed its site at Rhodes, NSW, for the manufacture of cellulose acetate for the newly established rayon spinning industry and of other chemicals which CSR had pioneered. In 1949 the first thermoplastic powder to be produced in Australia, 'Celsior', was made at Rhodes using imported cellulose acetate flake. This was followed by the establishment of the Fine Chemicals Factory which produced sorbitol, mannitol, ascorbic acid and phthalate plasticisers. Acetic acid was manufactured from 1950 on.

To get over the post-war shortages of various supplies CSR formed their first venture into petrochemicals, a joint company with Distillers Cpy. Ltd. of the UK, CSR-Chemicals Pty Ltd. Its $9 million (1953 value) Rhodes factory was opened in 1953. In 1955 and 1958 polystyrene plants were started up; a vinyl-acetate plant was built and an association with Dow and Goodrich was formed in Victoria (see p 711).

The major transition to petrochemicals, however, occurred in 1966. The rapid run on growth of plastics, particularly PVC had created demand for plasticisers; phthalic anhydride, one of the two constituents of the most common plasticisers, phthalate esters, was already being made by Newcastle Chemicals. The other, long chain alcohols could be produced by an ingenious and complex process which O. Roelen, one of I. G. Farben's chemists, had invented -the so-called OXO process. This process comprises the catalytic 'addition' of carbon monoxide and hydrogen to an define; depending on the latter, e.g. heptene, but also ethylene or propylene, a variety of long chain aldehydes and from them, alcohols can be made. OXO plants are complex and require decades of research, engineering and operational background. CSR decided to licence the process from Hoechst, one of the German successor companies to I. G. Farben. The construction of the plant and its start-up, once again, were an achievement in smooth technology transfer and training grounds for CSR chemical engineers and chemists (Fig. 34).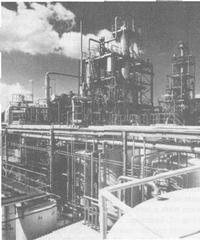 34 CSR -Chemicals Petrochemical Plant, Rhodes, New South Wales.
---
Organisations in Australian Science at Work - B. F. Goodrich-CSRC; C.S.R. Chemicals Ltd; C.S.R.C-Dow; Colonial Sugar Refining Company (C.S.R.); Fine Chemicals Factory; Newcastle Chemicals; Robert Corbett Pty Ltd



© 1988 Print Edition page 714, Online Edition 2000
Published by Australian Science and Technology Heritage Centre, using the Web Academic Resource Publisher
http://www.austehc.unimelb.edu.au/tia/680.html