Table of Contents
---
Chapter 6

I Construction During The Settlement Years

II The Use Of Timber As A Structural Material

III Structural Steel

IV Concrete Technology

V Housing

VI Industrialised Pre-cast Concrete Housing

VII Ports And Harbours
i Containerisation
ii Mineral Ports
iii Oil and Gas Ports
iv Other Bulk Cargoes
v Dredging

VIII Roads

IX Heavy Foundations

X Bridges

XI Sewerage

XII Water Engineering

XIII Railways

XIV Major Buildings

XV Airports

XVI Thermal Power Stations

XVII Materials Handling

XVIII Oil Industry

XIX The Snowy Mountains Scheme

XX The Sydney Opera House

XXI The Sydney Harbour Bridge

XXII Hamersley Iron

XXIII North West Shelf

Sources and References

---
Index
Search
Help
Contact us

Mineral Ports
The growth of Australian mineral exports during the past ten to fifteen years has also changed the nature of some existing ports and necessitated the construction of many new special purpose ports around the coastline. Offshore coal loading facilities, such as in Queensland at Hay Point and Abbot Point, have introduced new concepts of design, construction and materials handling techniques. Further, iron ore export ports in Western Australia, such as Dampier, Port Hedland, Port Walcott, bauxite at Weipa and Gove as well as coal loading facilities at Newcastle and Port Kembla, have required, in many cases, innovative design and construction techniques in the provision of the facilities.

Typical examples of offshore coal loading facilities are those at Hay Point as shown in Fig. 19. The Dalrymple Bay Terminal on the left of the photograph has an annual capacity of 15 million tonnes, a maximum ship loading rate of 6,600 tonnes per hour and the berth can accommodate ships up to 200,000 d.w.t.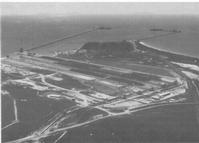 19 hay Point Harbour and Coal Stockyards: Dalrymple Bay Terminal on the left and Utah Nos. 1 and 2 berths on the right
The other terminal is Utah No. 1 and No. 2 Berths (Fig. 20). The capacity of these berths is 11 million and 14 million tonnes per annum respectively.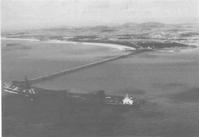 20 Hay Point Harbour: Utah Nos. 1 and 2 berths
---
People in Bright Sparcs - Wallace, J. M.



© 1988 Print Edition pages 340 - 341, Online Edition 2000
Published by Australian Science and Technology Heritage Centre, using the Web Academic Resource Publisher
http://www.austehc.unimelb.edu.au/tia/342.html