Table of Contents
---
Chapter 13

I Colonial Origins

II First World War

III Between The World Wars

IV The Second World War

V Post-second World War
i The United Kingdom Australia Agreement
ii The ADSS
iii Decline of Imported Work
iv Background Research and Development of the Department of Supply
v Technology in the Armed Services

VI After The Joint Project

VII Science And Decisions At The Top

VIII Armed Services Technology

IX New Tasks And Projects

X Transfer Of Research And Development

XI Acknowledgement

References

---
Index
Search
Help
Contact us

Malkara and Ikara (continued)

Uncontrolled vehicles were flown in early 1963, guidance trials quickly followed and sea acceptance trials later in the year. The complex weapon system was fitted to the RAN's Charles F. Adams class destroyers. Subsequently, digital systems using data from other ships and helicopters were developed. The Royal Navy was attracted by the success and a separate system was developed incorporating NATO practices. Sales were also made to Brazil.

Satellites and Intercontinentals

Although the Woomera range was available for long range tests, the British programme up to 1960 had been largely confined to relatively short range missiles of a defensive nature. In 1955, however, it announced its intention to do developmental trials in 1956 on the intercontinental ballistic weapon Blue Streak in Australia. All vehicles of this type must experience, at the end of flight, kinetic heating re-entry problems. As insufficient was known about the upper atmosphere to predict the effects quantitatively, a major new research program was begun.[38] This involved the launching of specially designed rocket vehicles to carry appropriate instrumentation to measure and telemeter back basic data about the atmosphere itself and about the rocket surfaces.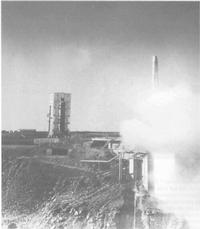 12 Blue Streak Launching
A massive program of down range instrumentation and infrastructure was begun by the Australians, who also developed a command break-up system and the digital impact predictor (DIP) already mentioned (see p. 941). Large launching facilities at Lake Hart, communications at Gove and elsewhere were constructed. The British Government cancelled the project in 1967.
The launching of Sputnik by the USSR in October 1957 stimulated international activities, with implications for Australia. Its geographical location encouraged the USA to seek a complex of tracking stations at Tidbinbilla, Honeysuckle Creek and Orroral Valley in the Australian Capital Territory, and a deep space probe at Island Lagoon in South Australia near Woomera, for the Mercury and Apollo projects. Facilities were also set up for the European Launcher Development Organization (ELDO -United Kingdom, France, Federal Republic of Germany) Project.[39] From 1964 on this, the Europa project, was dogged by development difficulties and after three launch failures and one half success, it was abandoned.
Although the Australian scientists at WRE had had no direct responsibility for the launcher vehicle in the Europa program, they had acquired sufficient technological knowledge from their missile and peripheral work to feel confident about launching their own satellite, using available hardware. The United States government agreed to donate a surplus Redstone rocket from its Sparta re-entry experiments. A small satellite called WRESAT was developed by a team led by Brian Rofe in conjunction with Adelaide university; instruments to measure ultra-violet and X-ray radiation from the sun were developed.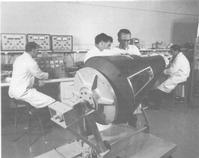 13 WRESAT
---
Organisations in Australian Science at Work - Australia. Department of Supply; Australian Defence Scientific Service (A.D.S.S.); European Launcher Development Organisation (E.L.D.O.); Royal Australian Navy; Weapons Research Establishment (W.R.E.)



© 1988 Print Edition page 942, Online Edition 2000
Published by Australian Science and Technology Heritage Centre, using the Web Academic Resource Publisher
http://www.austehc.unimelb.edu.au/tia/922.html