Table of Contents
---
Early Years in the Bureau

Introduction

My Early Years in the Bureau of Meteorology

The Formation of the Frosterley Club

Attachment A

Attachment B

Attachment C

Attachment D

Attachment E

Attachment F

Attachment G

Attachment H

Attachment I


---
Index
Search
Help
Contact us

My Early Years in the Bureau of Meteorology (continued)

On previous Saturday mornings I had been attending the forecasting board preparing the forecasts on Saturday mornings in the Weather Room. I wanted to build up what I had learned to be called 'time-in-lieu' so that I could have the Friday off after Show-Day at the end of September to return to Adelaide for the weekend on some urgent business. Treloar and Newman were also members of the forecasts board and in the afternoon the three of us went to the MCG to see a football match. It was my first experience of League football in Melbourne.

On the Monday morning when the course started the remaining members started drifting in; Patrick Squires, two pilots (one from the RAAF who turned out to be Dick Cohen who had conducted some of the upper air flights from Laverton) and one from a civil airline which I think was the old ANA, Willis Reeve; Percival Tasman Dale BSc who didn't take very long to tell everybody he came from Hobart not Launceston (apparently the two cities didn't see eye-to-eye with each other); Joseph Walpole, Maxwell Moss who had been in the Patents Department in Canberra, and Alexander Keith Hannay who asked people to call him Mike. I should say that in those days it wasn't quite the done thing to call each other by Christian name or by nick name, although we soon got around to that. The following morning the last three members of the course arrived. They were Leonard Joseph Dwyer who since his graduation had been a coach at Taylor's Coaching College, Harry (Tiny) Newell, who was a school teacher from Brisbane and F. G. G. Rose, who was terribly terribly British, but was more interested in anthropology than in meteorology and was using this training course as an excuse to get to the Northern Territory. The last one to arrive on the Monday morning rather late because he had come from Adelaide by train was Errol Alfred Mizon, a year or more younger than most of us. I'd known him at Adelaide High School when he was in intermediate when I was in the leaving honors. I'd noted he had spent some years as a junior in the Adelaide Divisional office. He let us know what there was to be known about meteorology and even tried to put the lecturers in their places. He later became a very valuable member of the Bureau and we all got to like him very much. The second forecasting class of '37 started on September 13, there was a photo of the members of the course who remained in meteorology at least temporarily in Weather News issue No. 173 dated 7 January 1971. This photo was taken outside the Trades Hall in Victoria Street directly opposite the Horticultural Hall where the class was held. In alphabetical order they were Percy Dale, Len Dwyer, Jarv Glasscock, Keith Hannay, Doc Hogan, myself, Alan Martin, Neil McRae, Errol Mizon, Max Moss, Harry (Tiny) Newell, F. G. G. Rose, Pat Squires and Joe Walpole.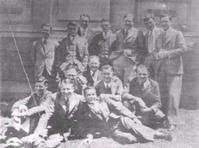 Members of the 1937 Meteorologist Course: (back row l-r): John Lillywhite, Pat Squires, Harry Newell, Neil McRae, Keith Hannay, Fred Rose, Len Dwyer; (middle row l-r): Joe Walpole, John 'Doc' Hogan, Errol Mizon, Percy Dale; (front row l-r): Max Moss, Jarv Glasscock, Alan Martin (Dick Cohen not in picture).
---
People in Bright Sparcs - Cohen, Dick (Kingsland); Dwyer, Leonard Joseph; Hannay, Alexander Keith (Keith); Hogan, John (Doc); Lillywhite, John Wilson; McRae, John Neil; Newman, Bernard William (Bernie); Squires, Patrick; Taylor, Thomas Griffith; Treloar, Harry Mayne


Lillywhite, J. 1992 'My Early Years in the Bureau of Meteorology: The Formation of the Frosterley Club', Metarch Papers, No. 4 February 1992, Bureau of Meteorology

© Online Edition Australian Science and Technology Heritage Centre and Bureau of Meteorology 2001
Published by Australian Science and Technology Heritage Centre, using the Web Academic Resource Publisher
http://www.austehc.unimelb.edu.au/fam/0177.html