Table of Contents
---
War History of the Australian Meteorological Service

Foreword

Preface

Introduction

Chapter 1: D.Met.S.—Australia's Wartime Weather Service

Chapter 2: The Weather Factor in Warfare

Chapter 3: Met in the Retreat

Chapter 4: Met in the Advance

Chapter 5: Meteorology in Aviation

Chapter 6: Central Forecasting Services

Chapter 7: Met With the Army
How Weather Formations Were Created as Essential to the Army
Establishments Throughout Australia
Meteorological Staff Officer
Disposition of Flights
Successive Movements to Pacific Theatres
The Close of Hostilities

Chapter 8: Research and Personnel Training

Chapter 9: Instrumental Development and Maintenance

Chapter 10: Scientific Developments in the RAAF Meteorological Service

Chapter 11: Divisional Bureaux and Their Work

Appendix 1: List of Reports Provided by D.Met.S. for Advances Operational Planning and Other Purposes

Appendix 2: List of Service Personnel RAAF Meteorological Service

Appendix 3: List of Civilian Personnel Who Worked Together with Service Personnel of the RAAF Meteorological Service

Appendix 4: List of Locations at which RAAF Meteorological Service Personnel Served


---
Index
Search
Help
Contact us

Establishments Throughout Australia
In April 1942 No 2 Mobile Meteorological Unit—which was the first of the newly constituted flights available for action—left Melbourne by road for Sydney, where it reported for duty at headquarters of the Army Eafstern Command. Late in April the flight was in action at the 15th Infantry Brigade—Southern Area combined exercises at Albury (NSW). In May, the flight arrived in the Newcastle district for duty with 10 Aust Div and in August moved north by road to Brisbane, on attachment to headquarters of RAA 2 Aust Corps AIF.

Meanwhile, after D.Met.S. and military representatives had examined in detail the requirements of anti-aircraft, coastal batteries and field formations, it was agreed that six mobile meteorological units would be necessary in the light of circumstances arising from the entry of Japan into the war.

Midway through September 1942 No 1 Mobile Meteorological Flight began operations in Brisbane, moving the following month to Townsville, where it was attached to headquarters RAN 5 Aust Div, while during October, RAAF meteorological personnel had been posted to Sydney for service with No 5 Mobile Flight, which was to be raised there, and others to Adelaide to form No 6 Flight.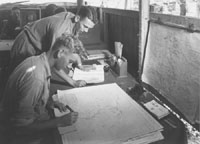 Sergeant Stratton plotting a chart at No 5 Mobile Meteorological Flight headquarters, Lae, 1944. Sergeant Allen is calling the observations, and a Corporal Watson is visible near the radio receiver in the background. Australian War Memorial negative no. 100614
With reports to possible use by the enemy of gas as a weapon, agreement already had been reached between D.Met.S., the Chemical Advisor of Army (E in C) and representatives of DMT(LHQ) on the provision of meteorological equipment for anti-gas laboratories and chemical warfare companies; the syllabus of training in meteorology for these companies, and the nature of forecasts to be provided had been determined in discussions. These had been performed by a British Chemical Warfare Liaison Mission concerning the nature, content and communication of forecasts for gas warfare.
During September 1942 the growth in the operational demands of the Army rendered necessary a realignment of duties within the headquarters organisation of the Directorate of Meteorological Services. A land forces section was initiated the duties of which were liaison with headquarters of land forces on meteorological requirements of the Army, attention to details of organisation and administration of meteorological units for the land forces, provision of codes and communications for transmission of weather data to land units, promulgation of technical developments in the application of meteorology to Army operations, and the handling of publications for land forces. The headquarters section was placed under control of Sqn Ldr L. J. Dwyer, who was designated Meteorological Liaison Officer to the Army.
---
Organisations in Australian Science at Work - Directorate of Meteorological Services (D.Met.S)

People in Bright Sparcs - Dwyer, Leonard Joseph


Haldane, T. 1997 'War History of the Australian Meteorological Service in the Royal Australian Air Force April 1941 to July 1946', Metarch Papers, No. 10 October 1997, Bureau of Meteorology

© Online Edition Australian Science and Technology Heritage Centre and Bureau of Meteorology 2001
Published by Australian Science and Technology Heritage Centre, using the Web Academic Resource Publisher
http://www.austehc.unimelb.edu.au/fam/0686.html