Table of Contents
---
War History of the Australian Meteorological Service

Foreword

Preface

Introduction

Chapter 1: D.Met.S.—Australia's Wartime Weather Service

Chapter 2: The Weather Factor in Warfare

Chapter 3: Met in the Retreat

Chapter 4: Met in the Advance

Chapter 5: Meteorology in Aviation

Chapter 6: Central Forecasting Services

Chapter 7: Met With the Army
How Weather Formations Were Created as Essential to the Army
Establishments Throughout Australia
Meteorological Staff Officer
Disposition of Flights
Successive Movements to Pacific Theatres
The Close of Hostilities

Chapter 8: Research and Personnel Training

Chapter 9: Instrumental Development and Maintenance

Chapter 10: Scientific Developments in the RAAF Meteorological Service

Chapter 11: Divisional Bureaux and Their Work

Appendix 1: List of Reports Provided by D.Met.S. for Advances Operational Planning and Other Purposes

Appendix 2: List of Service Personnel RAAF Meteorological Service

Appendix 3: List of Civilian Personnel Who Worked Together with Service Personnel of the RAAF Meteorological Service

Appendix 4: List of Locations at which RAAF Meteorological Service Personnel Served


---
Index
Search
Help
Contact us

Successive Movements to Pacific Theatres (continued)
No 4 Flight, which had been operating at Kairi, in northern Queensland, for some months, left Australia in May for Morotai. By July it had moved on to Balikpapan (Borneo), while No 2 Flight had moved from Morotai to Labaun Island (Borneo) in June, sending out detachments to Papar River and Tarakan.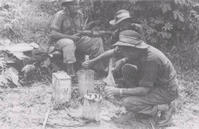 Members of No 4 Mobile Meteorological Flight making hydrogen in a portable apparatus at Balikpapan.
Sqn Ldr Dwyer was posted to New Guinea in June 1945 for an inspection of Nos 3, 5 and 6 Flights, returning to Melbourne in the following month. Before recommendations submitted in his subsequent report could be given effect the surrender of the Japanese occurred on 15 August 1945.
The flights did not cease operating on the surrender date. Because of the hostile attitude of local Japanese commanders, they continued to prepare meteor reports, forecasts, tidal and astronomical data for regional target areas until September. In that month arrangements were made through D.Met.S. and DDMO for disposal of personnel from Nos 1, 2 and 4 Plights to aviation meteorological sections of 1st Tactical Air Force, RAAF Disbandment instructions were issued by D.Met.S. on 17 September 1945, and advices sent to Northern Command and 1st TAF, RAAF, regarding the reallocation of personnel pending demobilisation. Some were returned immediately to the mainland.
The Close of Hostilities
Final instructions for the breaking up of LHQ Mobile Met Squadron were issued on 1 October 1945, and the work of disbanding and checking and returning stores was completed as follows: No 1 Flight, at Morotai (30 October 1945); No 2 at Labuan (2 November); No 3 at Chermside, Brisbane (28 December); No 4 at Balikpapan (31 October); No 5 at Wallgrove, NSW (24 November) and No 6 at Chermside (31 October).

A report on the organisation and activities of the Mobile Met Squadron with the AIF overseas was prepared by the met staff officer LHQ (Sqn Ldr L. J. Dwyer) at the date of cessation of hostilities. This report which contained recommendations on the provision of meteorological services for the Australian military forces during peace, and the organisation of weather units for the AIF in the event of future hostilities was submitted to the Director of Meteorological Services (Group Captain Warren) in December 1945 and was forwarded by him to the Chief of the General Staff. It should form a useful guide should similar conditions again necessitate meteorological association with the Army in war.
---
Organisations in Australian Science at Work - Directorate of Meteorological Services (D.Met.S)

People in Bright Sparcs - Dwyer, Leonard Joseph; Warren, Herbert Norman


Haldane, T. 1997 'War History of the Australian Meteorological Service in the Royal Australian Air Force April 1941 to July 1946', Metarch Papers, No. 10 October 1997, Bureau of Meteorology

© Online Edition Australian Science and Technology Heritage Centre and Bureau of Meteorology 2001
Published by Australian Science and Technology Heritage Centre, using the Web Academic Resource Publisher
http://www.austehc.unimelb.edu.au/fam/0692.html