Table of Contents
---
War History of the Australian Meteorological Service

Foreword

Preface

Introduction

Chapter 1: D.Met.S.—Australia's Wartime Weather Service

Chapter 2: The Weather Factor in Warfare

Chapter 3: Met in the Retreat

Chapter 4: Met in the Advance

Chapter 5: Meteorology in Aviation

Chapter 6: Central Forecasting Services

Chapter 7: Met With the Army
How Weather Formations Were Created as Essential to the Army
Establishments Throughout Australia
Meteorological Staff Officer
Disposition of Flights
Successive Movements to Pacific Theatres
The Close of Hostilities

Chapter 8: Research and Personnel Training

Chapter 9: Instrumental Development and Maintenance

Chapter 10: Scientific Developments in the RAAF Meteorological Service

Chapter 11: Divisional Bureaux and Their Work

Appendix 1: List of Reports Provided by D.Met.S. for Advances Operational Planning and Other Purposes

Appendix 2: List of Service Personnel RAAF Meteorological Service

Appendix 3: List of Civilian Personnel Who Worked Together with Service Personnel of the RAAF Meteorological Service

Appendix 4: List of Locations at which RAAF Meteorological Service Personnel Served


---
Index
Search
Help
Contact us

Establishments Throughout Australia (continued)
No 4 Mobile Meteorological Flight was organised at Perth in November 1942 after consultation with headquarters, 3 Australian Corps, on the nature of operational services it required in the regional responsibility of 3 Aust Corps. In the following months No 3 Flight, which had been intended for service with the 3 Australian Corps, but actually commenced its work with the Second Australian Army, was formed at Brisbane. For administrative purposes the headquarters section and the mobile meteorological units were reorganised in the RAAF as a mobile meteorological squadron and the units were designated mobile meteorological flights. Signallers and drivers were supplied by the Army and trained for meteorological duties within each flight, while RAAF meteorological personnel in each flight were trained in the use of Army weapons for offence and defence. Motor transport of each flight was increased by two utilities for carriage of spares and stores, and to permit the detachment of observers at a distance from parent flights.

As components of LHQ Mobile Meteorological Squadron (AIF) each of these flights were then attached to the headquarters of a division or corps of the Australian Imperial Force, where it was treated as a separate unit, usually under the commander of artillery for administration and discipline.

By the end of 1942 No 6 Flight had moved northward by way of Daly Waters to commence duty with headquarters, Northern Territory Force, whilst in January of the following year No 1 Flight reached Townsville for service with 5 Australian Field Regiment and to provide advices for field experiments conducted there by the Chemical Warfare Physiology School.

No 2 Flight was then with 2 Corps at Atherton, in Queensland; No 3 Flight in Brisbane; No 4 Flight at Melville, in Western Australia, and No 5 Flight at Singleton (NSW).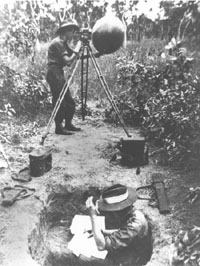 Preparing ballistic information (a meteor report) for artillery somewhere in North Queensland (Photograph courtesy of the Australian War Memorial)
In the months that followed a great deal of preparatory work was done by the flights, each of which was destined to move overseas with units of the Australian forces. A proposal was made from LHQ in February 1943 to increase and strengthen the flights to enable them to provide a meteor section for each field regiment. The position was met by the inclusion of a trained meteorological section in every survey battery, as supplementary to the flight serving with the formation. The personnel of these supplementary formations were provided by the Army and trained specifically for the task by D.Met.S.
Meteorological Staff Officer
During April 1943 Sqn Ldr Dwyer was appointed meteorological staff officer on General Staff, LHQ, which he represented at the first meeting of GHQ Communication Committee K in Brisbane late in the same month.
---
Organisations in Australian Science at Work - Directorate of Meteorological Services (D.Met.S)

People in Bright Sparcs - Dwyer, Leonard Joseph


Haldane, T. 1997 'War History of the Australian Meteorological Service in the Royal Australian Air Force April 1941 to July 1946', Metarch Papers, No. 10 October 1997, Bureau of Meteorology

© Online Edition Australian Science and Technology Heritage Centre and Bureau of Meteorology 2001
Published by Australian Science and Technology Heritage Centre, using the Web Academic Resource Publisher
http://www.austehc.unimelb.edu.au/fam/0687.html