Table of Contents
---
Origins of Australian Meteorology

Foreword

Preface

The Origins of Australian Meteorology
FitzRoy and Maury
Thomas Brisbane
Phillip Parker King
Charles Todd
Ellery and Neumayer
Henry Chamberlain Russell
Clement Wragge
The International Scene
The End of the Beginning

Appendix 1: Chronological Chart of Early Meteorologists

Bibliography


---
Index
Search
Help
Contact us

Charles Todd
One outstanding personality in early Australian meteorology is Charles Todd, who was assistant astronomer at Cambridge University when in 1855 he accepted appointment as Superintendent of Telegraphs and Government Astronomer in South Australia at the age of 30. It is interesting to contemplate the youth of senior officials in the colonies in those days, which no doubt contributed to the very great energy and initiative which gave Australian meteorology such a promising beginning.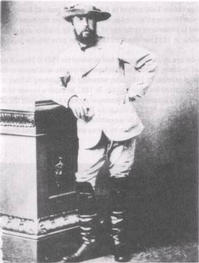 Sir Charles Todd, 1826–1910
There was not a single mile of telegraph wire in South Australia in 1855, but by 1858 Todd had a telegraph system to Victoria and New South Wales, and had completed the famous overland telegraph from Adelaide to Darwin by 1872. It should be remembered that Europe did not have a viable telegraph system until the 1860s.
Todd quickly realised that his combined responsibility as Postmaster-General and Government Astronomer and Meteorologist afforded a unique opportunity to gather meteorological information and made it a duty of all his telegraph operators to observe, collect and dispatch meteorological observations. Todd also prepared weather maps and published weather bulletins. In a paper to the Australian Association for the Advancement of Science in 1893 Todd described seven types of weather charts useful in forecasting. He installed evaporation tanks at Adelaide and Alice Springs. Todd also found time to take a prominent part in many of the scientific activities in the infant colony. He was a member of the Royal Society of South Australia, the Astronomical Society and the Institute of Surveyors and was also a member of the council of the university and was vice president of the board of trustees of the public library, museum and art gallery. He was elected a Fellow of the Royal Astronomical Society in 1864 and of the Royal Society in 1869.
---
People in Bright Sparcs - FitzRoy, Robert; Todd, Charles


Gibbs, W. J. 1998 'The Origins of Australian Meteorology', Metarch Papers, No. 12 June 1998, Bureau of Meteorology

© Online Edition Australian Science and Technology Heritage Centre and Bureau of Meteorology 2001
Published by Australian Science and Technology Heritage Centre, using the Web Academic Resource Publisher
http://www.austehc.unimelb.edu.au/fam/0817.html