Table of Contents
---
Origins of Australian Meteorology

Foreword

Preface

The Origins of Australian Meteorology
FitzRoy and Maury
Thomas Brisbane
Phillip Parker King
Charles Todd
Ellery and Neumayer
Henry Chamberlain Russell
Clement Wragge
The International Scene
The End of the Beginning

Appendix 1: Chronological Chart of Early Meteorologists

Bibliography


---
Index
Search
Help
Contact us

Henry Chamberlain Russell
We have seen how the Reverend W. Scott was the first Government Astronomer appointed in New South Wales. Scott had appointed Henry Chamberlain Russell to a position of computer in the observatory in 1859. When Scott retired because of ill health in 1862 the 26 year-old Russell was placed in his position as acting Astronomer pending the appointment of a permanent replacement. Russell was the son of Bourne Russell, Member of the Legislative Council of New South Wales. Henry had been born in Maitland near Newcastle and had graduated from the University of Sydney three years before his appointment as acting Astronomer. He was one of the university's early graduates. He was certainly Australia's first native-born Government Astronomer and Meteorologist.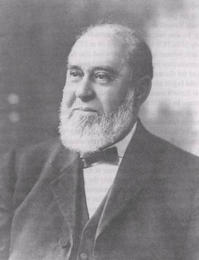 Henry Chamberlain Russell, 1836–1907
Russell, when appointed Government Astronomer after Smalley's death in 1870, began systematically to increase the number of meteorological stations and to invite 'amateurs' to join in the work of recording rain and temperature. Over the period 1870 to 1882 the number of stations was increased to 290, 50 stations reported directly to the Observatory and 240 private observers regularly furnished returns. Before Russell resigned there were about 1800 observing points throughout New South Wales.
In 1877 Russell began the publication of daily weather maps which showed the observations from 77 locations in Victoria, New South Wales, Queensland, New Zealand and the overland telegraph line stations in South Australia. This chart, which was reproduced in slightly less than two hours, took the place of a tabular statement which had previously been printed in the Sydney Morning Herald. In 1878 Russell introduced the publication of rainfall returns in pamphlet form with a map showing localities and in addition a diagram of the results of daily readings of principal rivers. Russell recognised the need for uniformity and cooperation between the colonies on meteorological matters and on his initiative a conference was held in Sydney in 1879 between the Government Astronomers of New South Wales, Victoria and South Australia and the Inspector of Meteorological Stations in New Zealand. Some of the resolutions of this conference had far reaching effects on the future of meteorology in Australia. The conference was mainly concerned with establishment of stations, standardisation of instruments, codes for transmission of meteorological reports by telegraph and interchange of weather statistics.
---
People in Bright Sparcs - Russell, Henry Chamberlain; Scott, William; Smalley, George Robarts


Gibbs, W. J. 1998 'The Origins of Australian Meteorology', Metarch Papers, No. 12 June 1998, Bureau of Meteorology

© Online Edition Australian Science and Technology Heritage Centre and Bureau of Meteorology 2001
Published by Australian Science and Technology Heritage Centre, using the Web Academic Resource Publisher
http://www.austehc.unimelb.edu.au/fam/0821.html