Table of Contents
---
Origins of Australian Meteorology

Foreword

Preface

The Origins of Australian Meteorology
FitzRoy and Maury
Thomas Brisbane
Phillip Parker King
Charles Todd
Ellery and Neumayer
Henry Chamberlain Russell
Clement Wragge
The International Scene
The End of the Beginning

Appendix 1: Chronological Chart of Early Meteorologists

Bibliography


---
Index
Search
Help
Contact us

Clement Wragge
Perhaps the most colourful of the early Australian meteorologists was Clement Wragge who thwarted his parents' desire that he should follow a law career by shipping to Australia as a seaman on leaving school. At the age of 22, after some years wandering throughout New South Wales and Queensland, he shipped to San Francisco but returned in 1876 and worked in the South Australian Surveyor-General's Department where he was presumably associated with Todd. It appears that he worked for some considerable time in inland South Australia and noting the sparse and fickle rainfall suggested that water in larger rivers on the east coast might be diverted inland to augment the water supply there—an idea which recurred frequently in later years and became a reality with the Snowy Mountains Scheme.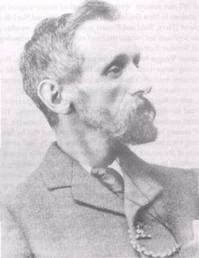 Clement Lindley Wragge, 1852–1922
Wragge returned to England in 1878 and devoted himself to meteorology. He took charge of three stations in Staffordshire and in 1861 carried out the arduous feat of founding an observatory on Ben Nevis in Scotland. During the winter of 1881–1882 Wragge made daily ascents to the summit of Ben Nevis, 1343 metres above mean sea level, for the purpose of comparing meteorological conditions at that altitude with those at sea level. This early interest in variation of meteorological elements with altitude appeared to have seized Wragge's imagination because in 1884 in South Australia he arranged regular observations on the summit of Mt Lofty for the purpose of comparing mountain and sea level observations. Later he reorganised the meteorological service of Tasmania and founded the Mt Wellington observatory for the purpose of comparing observations on that summit with those in Hobart and in 1897 established a high level observatory at Mt Kosciusko, the highest peak in Australia, with the object of comparing those observations with observations at Merimbula on the adjacent coast.
Wragge was appointed Government Meteorologist in Queensland in 1887 and by 1893 had established 16 first order meteorological stations, 36 second order stations and 45 third order stations and 398 rain stations. Wragge also supplied meteorological instruments for the establishment of stations in New Guinea, New Caledonia, Fiji and Norfolk Island. Wragge followed the example of Ellery, Todd and Russell in publishing daily weather reports, synoptic charts and 24-hour forecasts but excited the ire of other colonial meteorologists by styling his office the 'Central Weather Bureau'.
While in Europe Wragge had studied the methods of the Austrian, Bruckner, and now began to produce long-range weather forecasts. He recruited a 16 year-old youth named Inigo Jones who later became Australia's best known long-range weather forecaster, although meteorologists give little credence to the scientific basis of Jones' forecasts.
---
People in Bright Sparcs - Ellery, Robert Lewis John; Jones, Inigo Owen; Russell, Henry Chamberlain; Todd, Charles; Wragge, Clement Lindley


Gibbs, W. J. 1998 'The Origins of Australian Meteorology', Metarch Papers, No. 12 June 1998, Bureau of Meteorology

© Online Edition Australian Science and Technology Heritage Centre and Bureau of Meteorology 2001
Published by Australian Science and Technology Heritage Centre, using the Web Academic Resource Publisher
http://www.austehc.unimelb.edu.au/fam/0824.html