Table of Contents
---
Memories of the Bureau, 1946 to 1962

Foreword

Terminology

Prologue

Preface

Chapter 1: The Warren Years, 1946 to 1950

Chapter 2: International Meteorology

Chapter 3: The Timcke Years, 1950 to 1955

Chapter 4: A Year at the Massachusetts Institute of Technology

Chapter 5: The Dwyer Years, 1955 to 1962

Chapter 6: A Springboard for the Future
My Springboard
Proposal for More Staff
Efforts to Improve Scientific Status of the Bureau
Gibbs-Priestley-White Prospectus
Successes and Struggles with Ministers and Permanent Heads
Submission to Royal Commission on Government Administration
The Committee of Inquiry
Achievements 1962 to 1978

Appendix 1: References

Appendix 2: Reports, Papers, Manuscripts

Appendix 3: Milestones

Appendix 4: Acknowledgements

Appendix 5: Summary by H. N. Warren of the Operation of the Meteorological Section of Allied Air Headquarters, Brisbane, 1942–45

Endnotes

---
Index
Search
Help
Contact us

Achievements 1962 to 1978
The appointment of Dr John Farrands to succeed Sir Hugh resulted in an entirely different style of management of the department and although Government restraints on staff and expenditure continued we were able to continue the program of Bureau development.

Any history of Bureau development during my period as Director of Meteorology will reveal that we took advantage of advances in science and technology to build an organisation which earned a national and international reputation as a highly efficient meteorological service.

Publications like the AMM, Weather News and the Bureau's annual reports provide a record of achievements in the period 1962 to 1978 of which we can be proud. It is significant to note that Weather News continued to be published at monthly or bimonthly intervals until December 1976 after which staff and financial restrictions interrupted publication for some time. With the appointment of John Farrands as Permanent Head of the Department of Science in December 1977 the Bureau was able to begin a phase of recovery, and issues became more regular.

Retiring in July 1978 I had the satisfaction of knowing that despite the struggles of 1973 to 1977 much had been achieved by making use of the springboard provided by the Warren, Timcke and Dwyer years. We were in the vanguard of those who developed the use of data from meteorological satellites and ocean buoys. We negotiated the development of a statement of requirements for a computer complex and acquired two IBM 360/65 computers which enabled the NWP system developed in the Bureau and the CMRC to become operationally useful and a major climatological data base to be established.[1]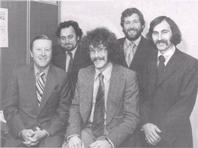 Figure 47 These Bureau Public Relations Officers, seconded from the News and Information Bureau, continued the magnificent work of T. T. "Tom" Hall and F. T. "Frank" Hannan. Tom launched Weather News in August 1956. and Frank became editor in 1959. The PRO'S in the photo are, from left to right, Ted Saunders (1964–69), Mike Rosel (1970–72), Richard Brewster (1976–78), Godfrey Wiseman (1972–74), Geoff Hiscock (1974–76).
With Audrey and some of my family I was guest of honour at a farewell dinner dance with about 160 members of the Bureau's staff, other colleagues and wives. I still have a copy of the program of that evening, the words of a song sung by a Bureau choir of some six or eight people and a sketch by a member of our Drafting Section of me seated in a boat with Audrey in Port Phillip Bay, fishing and listening to a weather forecast on a transistor radio.
---
People in Bright Sparcs - Dwyer, Leonard Joseph; Farrands, John Laws; Timcke, Edward Waldemar; Warren, Herbert Norman


Gibbs, W. J. 1999 'A Very Special Family: Memories of the Bureau of Meteorology 1946 to 1962', Metarch Papers, No. 13 May 1999, Bureau of Meteorology

© Online Edition Australian Science and Technology Heritage Centre and Bureau of Meteorology 2001
Published by Australian Science and Technology Heritage Centre, using the Web Academic Resource Publisher
http://www.austehc.unimelb.edu.au/fam/1156.html