Table of Contents
---
Memories of the Bureau, 1946 to 1962

Foreword

Terminology

Prologue

Preface

Chapter 1: The Warren Years, 1946 to 1950

Chapter 2: International Meteorology

Chapter 3: The Timcke Years, 1950 to 1955

Chapter 4: A Year at the Massachusetts Institute of Technology

Chapter 5: The Dwyer Years, 1955 to 1962

Chapter 6: A Springboard for the Future
My Springboard
Proposal for More Staff
Efforts to Improve Scientific Status of the Bureau
Gibbs-Priestley-White Prospectus
Successes and Struggles with Ministers and Permanent Heads
Submission to Royal Commission on Government Administration
The Committee of Inquiry
Achievements 1962 to 1978

Appendix 1: References

Appendix 2: Reports, Papers, Manuscripts

Appendix 3: Milestones

Appendix 4: Acknowledgements

Appendix 5: Summary by H. N. Warren of the Operation of the Meteorological Section of Allied Air Headquarters, Brisbane, 1942–45

Endnotes

---
Index
Search
Help
Contact us

Achievements 1962 to 1978 (continued)
The Bureau achieved a prominent position in WMO with the establishment of one of three World Meteorological Centres of the World Weather Watch in the Bureau in Melbourne. Weather News tells the story of the many Bureau staff who made major contributions to the activities of all of the WMO Technical Commissions, Walter Dwyer being elected President of CAeM and Bill Brann, Keith Henderson, Ralph Holmes, Arthur Muffatti, Neil McRae, Henry Phillpot, John Zillman and many other Bureau staff earning high praise for their contributions.

I had a busy but highly enjoyable involvement in international meteorology, being a member of the Executive Committee from 1963 to 1978 and First Vice-President of WMO from 1967 to 1975. I had the opportunity to participate in many WMO and other international meetings, and in the free time which occurred during these meetings was able to see something of the character and beauty of many countries.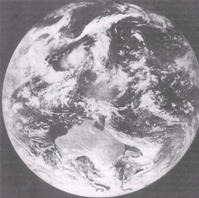 Figure 48 One of the first pictures received on 8 September 1977 by the Bureau's Medium Data Utilisation Station in Melbourne from the Japanese Geostationary Satellite launched on 14 July of that year and positioned in orbit 36 000 km above West Irian.
Apart from the scientific and organisational aspects of these meetings I had the advantage of making friendships with a host of interesting people from many countries and in the WMO Secretariat in Geneva. At the risk of omitting some I should mention Sir Graham Sutton, Francis Reichelderfer, John Mason, Bob White, Alf Nyberg, Harry Wexler, Joe Smagorinsky Dave Johnson, Morton Rubin, Gordon Cartwright and, in the WMO Secretariat in Geneva, Arthur Davies, Kaare Langlo, Oliver Ashford, Bo Doos, Raymond Schneider, Gottfried Weiss and many others.
I have mentioned that the staff of the Bureau was a very special family. Some of the special members who were missed when they left the family to seek greener pastures were Gerry O'Mahony, Allan Rainbird and Neil Body, each of whom had made a special contribution to the Bureau's development. Within the Bureau family I had many close friends among whom I specially remember Ralph Holmes, Alan Martin, Frank Hannan and Allen Bath.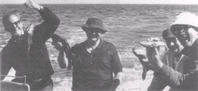 Figure 49 George Rutherford, an outstanding contributor to Bureau achievements in training, research and the operation of the Melbourne World Meteorological Centre of the WMO World Weather Watch. George on left with Bureau colleagues on a fishing expedition in Bass Strait.
---
People in Bright Sparcs - Bath, Allen Tristram; Brann, Harold Walter Allen Neale (Bill); Dwyer, Walter Anthony; Henderson, William Keith; Holmes, Ralph Aubrey Edward; McRae, John Neil; Muffatti, A. H. (Arthur); O'Mahony, Gerard (Gerry); Phillpot, Henry Robert; Zillman, John William


Gibbs, W. J. 1999 'A Very Special Family: Memories of the Bureau of Meteorology 1946 to 1962', Metarch Papers, No. 13 May 1999, Bureau of Meteorology

© Online Edition Australian Science and Technology Heritage Centre and Bureau of Meteorology 2001
Published by Australian Science and Technology Heritage Centre, using the Web Academic Resource Publisher
http://www.austehc.unimelb.edu.au/fam/1157.html