Table of Contents
---
Radio Technical Officers

Foreword

Acknowledgements

Preface

Introduction

Chapter 1: The Early Years

Chapter 2: The Training School

Chapter 3: Equipment Installation Records

Chapter 4: The 'Techs' in Antarctica

Chapter 5: The 'Techs' Tell Their Stories

Appendix 1: 'Techs' Roll Call

Appendix 2: Trainee Intakes

Appendix 3: 'Techs' Who Have Served in the Antarctic Region

Appendix 4: Summary of Major Installation Projects

Appendix 5: Summary of Major Equipment Variously Installed at Sites and Maintained by Radio Technical Officers


---
Index
Search
Help
Contact us

Chapter 1: The Early Years

Reginald William Stout (Reg or 'Stoutie') retired in 1981 as a Principal Technical Officer responsible for the field planning and installation of major meteorological projects throughout Australia.

Reg could well be considered as a father figure to many 'met techs' as he was the first recruited Radio Mechanic to enter Bureau service in 1948. His extensive 40 year service stretches unbrokenly back to the years of WWII and has encompassed the entire field of maintenance, siting and installation of the Bureau's electronic observational equipment. It could well be said that if there was a radio, a radiosonde or a radar installed somewhere then 'Stoutie' had a hand in it. His recollections of those early years make interesting reading.
With the passing of Allan Cornish and Bill Brann I shall endeavour to give my personal reminiscences as best as I can over my 40 years. I could miss some names so please excuse. I have fond memories of the Directors that I worked for over the years.
H. A. Hunt (1908 to 1931) and W. S. Watt (1931 to 1940) were both before my time but with the others after WWII, I had a good deal of personal contact. They were:
H. N. Warren 1950 to 1955
L. J. Dwyer 1955 to 1962
W. J. Gibbs 1962 to 1978
J. W. Zillman 1978 to present date.

In my opinion, L. J. Dwyer had the forethought and the drive to re-organise the establishment, to determine that the Bureau must employ electronics into meteorology to assist cyclone warning services and to provide high level wind data for high flying aircraft and for general forecasting purposes.
Radars were essential. In the early days, instruments were attached to the wings of aircraft from Laverton and other places to record temperature and humidity. Five thousand metres was about the maximum height attained, and the information was not very accurate. Likewise, pilot balloons could not be tracked after they had entered or were obscured by cloud.
Technicians were eventually introduced into the Bureau and I was the first to be admitted as a Radio Mechanic working under Allan Cornish who had a Science degree. He explained that the present radiosonde ground equipment on stations was giving doubtful results because of unofficial modifications by RAAF signals personnel and therefore my first job was to get the station equipment back to standard. I also had to prepare a future specification for more up-to-date radiosonde equipment.
I introduced a simple signal generator and linearity measuring equipment simulating air-borne radiosondes to test the ground equipment. I carried this all over Australia. After I'd done general maintenance, I'd check the sensitivity of the receivers and then calibrate the frequency counter and recorder.
Now by this time, we started to employ several technicians and I was given the job of training and familiarising them with meteorological equipment. These chaps came mainly from the Services.
The Bureau was now developing quickly but I couldn't be everywhere—training technicians, maintenance visits to stations and installations—a busy time!
We needed to get away from the term 'mechanic' so I did several tests with the Public Service Inspector showing him the percentage of meteorological work and the need for electronic service including radiosonde and radar. The terminology was finally established, viz, Observer (Radio) and Senior Observer (Radio). The Bureau as a consequence had a complete Training Section, a maintenance recording/assistance section and, later, an Installation Section responsible for the acquisition of sites, development and design of buildings and for electronic installations.
Supervising Meteorologist Max Cassidy was involved with the Department of Civil Aviation (DCA) staff in modifying the 277F ex-naval radars at Maribyrnong stores and DCA were then installing the radars at Perth and at Laverton. DCA had 12 technicians and took 12 weeks to install just the radar with no radiosonde or other meteorological observational equipment.
I was called along with our Section Head, Meteorologist Bill Brann, to the then Director, Len Dwyer. He told me as from this day that I would be promoted to Senior Technical Officer Grade 3 and would be responsible for all wind-finding and weather watch radars, radiosonde and all other meteorological facilities. I was instructed to prepare working drawings for buildings and to liaise with Department of Works architects and electrical engineers and to oversight all specifications and to obtain approval for sites as needed.
I was to prepare all estimates for buildings and last but not least to submit my claims for overtime and travelling allowances through Bill Brann by November each year. He went on to say that the Bureau had faith in me to do the job. He wanted the Bureau to be independent of DCA, and to stand on its own two feet.
I saw Geoff Goodman, our Section Engineer, and he kindly gave me a stack of drawings nearly 0.5 metres high. He said "don't come back to me for queries as I can't help you", and I was naturally pleased to hear that.
I took a trip down to Laverton and had a look at the DCA 277F radar installation. I prepared a work flow program of how the job could be done. Very eager and competent 'techs' Tom Sleath and Roger Catchpole and an instrument maker worked with me on the planning proposal. These men worked on the theory for about two weeks and were very keen to put their theory into practice. I used two Department of Works electricians to run the cables
With three 'met techs' it took only three weeks to put the radar, the radiosonde and complete meteorological equipment into Charleville in October 1955. We made airborne flights and sent our computations back to Melbourne via the intermet (Ed—Bureau communications network). Congratulations were forthcoming from L. J. Dwyer, Bill Brann and Geoff Goodman.
Following on, we completed 277F radar installations at both Eagle Farm and Townsville so in nine weeks we installed three complete stations of radars and facilities under the time that it had taken DCA to do one.
And so it went on. George Khan came into the Section in the early 1960s, and we also had Bob Davis and Alan Pendrich for a short period during installation work. George Khan did a lot of good work during that time.
As time went by, other staff moved into the Section. Ray Clarke took over from George Khan in the middle 1960s and was ultimately to be a very busy and competent installation supervisor. Later still came Lex Patterson, Bob Brealey, Jay Evans and Isaac Bugalski, and a little later Bruce Duck, Sid Owen and the late Bob West.
In the middle 1970s Adrian Porter and Bob Lazdins appeared on the scene and did good work. All these chaps were unique characters in one way or another but they were, without exception, all good dedicated officers and the Bureau should be proud of their notable installation work in the field, quite often undertaken under difficult conditions.
I believe that the toughest project that I had to handle was the Saddle Mountain weather watch radar outside Cairns in October 1962. The radar on the mountain was called Wandana, Aboriginal for 'see far away'.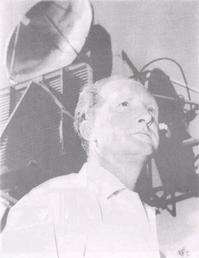 Reg Stout at Saddle Mountain near Cairns, Queensland, October 1962.
The mountain is 840 metres high up on a ridge. Two bridges had to be constructed and a special road formed through dense rainforest. At the summit, we worked in clouds consistently. Tracks made slippery by heavy rain lasting four to five days caused a severe transportation problem. The radar was fed into a microwave link installed at both Saddle Mountain and at Cairns Airport, all by 'met techs'.
The X200 atomic bomb in Australia, under control of the British, was another special project. I arrived on site in the middle of the desert and was taken to the Director of Works, West Australia. He welcomed me into his tent and said "you have the acting rank of captain and you've been given 12 men and one corporal carpenter". I asked "what do I do with these men?". He pulled back the fly of his tent and said "see that white peg, that's your met office". When I recovered from the shock, I got on with it. Harry Ashton and Henry Phillpot (Meteorologists from Central Office) arrived on site to see the building a going concern, all electronics going and gas facilities complete. The facilities that we had were excellent—I believe they had been allocated for Sir William Penny but, as the aircraft were unloaded, I found them first so first in best dressed!
When Sir William Penny came down to the meteorological office for morning tea, he commented on several occasions that it was the most comfortable building on the site. He was probably sitting in the chair allocated for him.
After X200, it was decided to shift to Maralinga about 30 kilometres to the north and so another meteorological radar and other facilities were installed. Our Assistant Director V. J. Bahr accompanied a party to the area where the explorer Giles visited many years ago. It was now decided that a new meteorological station be built for 10 men, and that it be called Giles. I worked over at Salisbury, South Australia, with the Department of Works designing the power house, staff quarters and the general meteorological building including hard standing ramp for the new mobile wind-finding radar acquired by Sir William Penny. The buildings were all prefabricated. Don Handcock and I flew from Alice Springs in a private plane, landed on a clay pan and pegged out a site before the Works tradesmen arrived. They were on site for eight weeks and, after that, meteorological installations were commenced.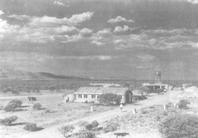 Giles Meteorological Office in the late 1950s.
Another interesting project was the planning for and participation in the first moving ship observational program from Perth to Port Elizabeth, down to Capetown then up to Durban, Mozambique past Madagascar and then around the bottom of Australia to Gisborne, New Zealand. Sid Owen and myself did four radiosonde flights a day. We only missed one flight because of unsafe conditions, on Captain's orders. Getting out of bed at 2 am in howling gales and then launching the balloon and recording the data was extremely difficult with personal belongings and instruments flying around the cabin. The observations were a huge success and Sid Owen and I felt it was a tremendous experience.
I was involved with Trevor Donald, Regional Maintenance Officer (RMO) (New South Wales) in the selection of a new site for the Sydney radar at Letterbox. The site was on State land so a deal with the Lands Department was made. We could design a tower to house the power supply and radar dish, and under this, a glassed area 360° room for the fire spotters, and that's how we got the site south of Sydney Airport. The radar signal was by microwave to Sydney Airport where the meteorological office staff tracked the storms. It's a great advantage to scan over the airport proper. Trevor Donald put in a lot of work and was very pleased with the results.
Well, the specifications for the relocation of the Lord Howe Island meteorological office were completed so I was quite content to sit back and wait for May 1981 when I would retire and live on the Gold Coast in Queensland. Then Kevin Walshe, Senior Clerk, contacted me; there was another project—a new training college in Melbourne.
The Keilor Council requested purchase of the old site at Bowes Avenue. I was pleased to hear this because the site itself was unsuitable. I toured a full 360° of Melbourne until I found about 12 hectares on the outer boundary at Broadmeadows where we designed a full training annexe, but in the interim we would convert the nearby old Serum Laboratory building into a radar and meteorological facilities Training School. Adrian Porter and Bob Lazdins did the installation using the original WF44 radar from Laverton.
I have made many friends in meteorology all over Australia and the Islands. To me, it is a wonderful service and the team spirit is always there no matter where you go.
The team effort between meteorological and technical staff is one of pride. I consider the Installation Section of Head Office to be a unique group, as indicated by the implementation of over 160 major and complex projects during my 40 years.
---
People in Bright Sparcs - Ashton, Henry Tamblyn (Harry); Brann, Harold Walter Allen Neale (Bill); Clarke, Raymond W.; Cornish, Allan William; Dwyer, Leonard Joseph; Handcock, Don; Hunt, Henry Ambrose ; Phillpot, Henry Robert; Warren, Herbert Norman; Watt, William Shand; Zillman, John William


Clarke, R. 1999 'Stories of the Bureau's Radio Technical Officers from 1948', Metarch Papers No. 14 February 1999, Bureau of Meteorology

© Online Edition Australian Science and Technology Heritage Centre and Bureau of Meteorology 2001
Published by Australian Science and Technology Heritage Centre, using the Web Academic Resource Publisher
http://www.austehc.unimelb.edu.au/fam/1176.html