Table of Contents
---
Chapter 3

I Background

II Early European Settlements

III Assessment Of Available Water Resources

IV Water Supplies For Goldmining Development

V Irrigation Development

VI Farm And Stock Water Supplies
i Early development - extensive distribution systems
ii The Great Artesian Basin
iii Groundwater research
iv Windmills
v Farm storages

VII Urban Water Supplies

VIII Wastewater Management And Treatment

IX Water Quality Management

X Limnological And Water Quality Research

XI New Techniques In Water Resource Planning And Management

XII Legislation

XIII Conclusion

XIV List Of Abbreviations

XV Acknowledgements

XVI Plantations-high Productivity Resources

References

---
Index
Search
Help
Contact us

Farm And Stock Water Supplies
Early development - extensive distribution systems
In the early years of European settlement stock water supplies in rural areas relied largely on natural watercourses which, during periods of average rainfall, supplied most requirements. Some farm dams were also built, but the available earth-moving equipment permitted only simple construction in limited locations. The natural streams could not be relied on in periods of drought and the dams were too small to provide carry-over storage from year to year. The effects of drought were aggravated through the lack of reliable water supplies along recognized stock routes.

Improved water supplies have been provided, mainly since about 1900, by the exploitation of surface water and groundwater, involving the progressive application of new technology and by the improvement of farm storages.

In Western Australia and Victoria, comprehensive schemes comprising river storage and extensive channel systems, coupled with on-farm storages, have permitted the safe development of vast areas of farmland. The Western Australian Goldfields Scheme has already been mentioned. The Victorian Wimmera-Mallee Domestic and Stock System (Fig. 7) is one of the largest in the world, supplying water to some 22,000 farm storages on nearly 16,000 rural properties, and 50 towns, spread over an area of 28,500 km2. Water is conveyed from twelve major storages through 16,000 km of earth channels. A complex process of annual water distribution has been developed to ensure that all farm dams are filled before the dry summer period, and that distribution losses are reduced to a minimum.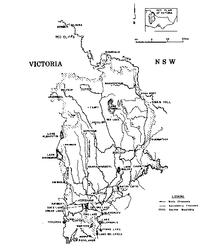 7 Wimmera Mallee Stock and Domestic Supply System, Victoria
---

© 1988 Print Edition pages 166 - 167, Online Edition 2000
Published by Australian Science and Technology Heritage Centre, using the Web Academic Resource Publisher
http://www.austehc.unimelb.edu.au/tia/166.html