Table of Contents
---
Chapter 3

I Background

II Early European Settlements

III Assessment Of Available Water Resources

IV Water Supplies For Goldmining Development

V Irrigation Development

VI Farm And Stock Water Supplies
i Early development - extensive distribution systems
ii The Great Artesian Basin
iii Groundwater research
iv Windmills
v Farm storages

VII Urban Water Supplies

VIII Wastewater Management And Treatment

IX Water Quality Management

X Limnological And Water Quality Research

XI New Techniques In Water Resource Planning And Management

XII Legislation

XIII Conclusion

XIV List Of Abbreviations

XV Acknowledgements

XVI Plantations-high Productivity Resources

References

---
Index
Search
Help
Contact us

The Great Artesian Basin
In New South Wales, the discovery of the Great Artesian Basin (Fig. 9) in the late 19th century led to the construction of many artesian bores and the provision of assured water supplies of acceptable salinity on several stock routes previously classed as unreliable. Several thousand bores have since been drilled and water is conveyed through earthen channels for thousands of kilometres.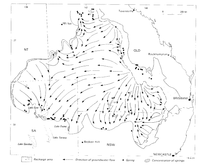 9 Great Artesian Basin
The bore drain is a unique solution to the stock watering problem in that it distributes the water and simultaneously provides a continuous water trough (Fig. 10). Drain lengths of 160 km from a single bore are not uncommon.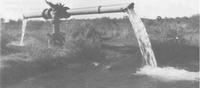 10 Flowing artesian bore in the Great Artesian Basin
Accelerated mining of artesian supplies and consequent reduction of pressure and lowering groundwater levels led to a realization that this source was not unlimited. Extensive investigations, aimed at establishing the extent of the Great Artesian Basin, its safe yield and the characteristics of its waters, were set in train by Nimmo and others and a reasonable understanding of this unique water resource was available by 1930. This work has recently been extended and enhanced by Habermehl and Siedel of the Bureau of Mineral Resources, using the most advanced technical processes. A digital computer simulation model has been developed for the Great Artesian Basin and this provides satisfactory data for assessment purposes, planning and management decisions for some of the major aquifers. Recommendations for future exploitation can be based on model predictions.
Groundwater has also been used extensively for farm water supplies in Western Australia and South Australia.
---
People in Bright Sparcs - Habermehl, M. A.; Siedel, G. E.



© 1988 Print Edition pages 168 - 169, Online Edition 2000
Published by Australian Science and Technology Heritage Centre, using the Web Academic Resource Publisher
http://www.austehc.unimelb.edu.au/tia/168.html