Table of Contents
---
Chapter 3

I Background

II Early European Settlements

III Assessment Of Available Water Resources

IV Water Supplies For Goldmining Development

V Irrigation Development

VI Farm And Stock Water Supplies
i Early development - extensive distribution systems
ii The Great Artesian Basin
iii Groundwater research
iv Windmills
v Farm storages

VII Urban Water Supplies

VIII Wastewater Management And Treatment

IX Water Quality Management

X Limnological And Water Quality Research

XI New Techniques In Water Resource Planning And Management

XII Legislation

XIII Conclusion

XIV List Of Abbreviations

XV Acknowledgements

XVI Plantations-high Productivity Resources

References

---
Index
Search
Help
Contact us

Windmills
Windmills (Fig. 11), once the only source of power for lifting underground water to the surface, were developed and manufactured in Australia at the turn of the century. Griffiths Bros and Co. built some of the earliest windmills in Toowoomba, Queensland, selling the first Southern Cross model in 1903. J. A. Griffiths was cited in the 1911 Encyclopaedia Brittanica as a world authority on windmill design. The Southern Cross brand name was later extended to well-boring machines and associated equipment.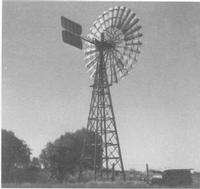 11 Windmill pumping groundwater in semi-arid Australia
Windmills have been progressively improved in recent years and are still in use in remote areas.
---
Organisations in Australian Science at Work - Griffiths Bros. and Co.

People in Bright Sparcs - Griffiths, J. A.



© 1988 Print Edition page 169, Online Edition 2000
Published by Australian Science and Technology Heritage Centre, using the Web Academic Resource Publisher
http://www.austehc.unimelb.edu.au/tia/170.html