Table of Contents
---
Chapter 6

I Construction During The Settlement Years

II The Use Of Timber As A Structural Material

III Structural Steel
i The Entertainment Centres at Sydney and Brisbane
ii The Centrepoint Tower, Sydney
iii The Merivale Rail Bridge - Brisbane

IV Concrete Technology

V Housing

VI Industrialised Pre-cast Concrete Housing

VII Ports And Harbours

VIII Roads

IX Heavy Foundations

X Bridges

XI Sewerage

XII Water Engineering

XIII Railways

XIV Major Buildings

XV Airports

XVI Thermal Power Stations

XVII Materials Handling

XVIII Oil Industry

XIX The Snowy Mountains Scheme

XX The Sydney Opera House

XXI The Sydney Harbour Bridge

XXII Hamersley Iron

XXIII North West Shelf

Sources and References

---
Index
Search
Help
Contact us

The Centrepoint Tower, Sydney
This is a tower with a total height of 320 m, constructed on top of a sixteen level reinforced concrete building in the Sydney Central Business District (Fig. 8). It serves as both a communications tower and as a tourist facility, with observation platforms and restaurants in a turret at the top of the tower. As the tower is constructed on top of a multi-level building, it was essential that lightness and minimum frontal areas exposed to wind loading be achieved. The designers adopted a design in steel consisting of a central column braced by closely spaced steel cables. The central column is 6.8 metres in diameter and is composed of segments built of fifty-six 250 mm x 250 mm universal columns rolled from AUSTEN 50, a high strength weathering steel. The column is braced by fifty-six inclined cables 182 metres long forming a hyperbolic paraboloid surrounding the steel shaft. Each cable is composed of two hundred and thirty-five 7 mm diameter high high-tensile wires which have been protected against corrosion by hot dip galvanising. The turret is an eight-level welded steel frame structure which was fabricated at the tower base and progressively lifted as construction of the shaft advanced. The steel shaft contains lifts, stairs and services for the turret.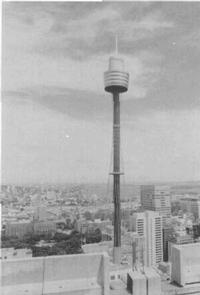 8 Centrepoint Tower, Sydney
The tower was designed by consulting engineers, Wargon Chapman & Associates Pty. Ltd., was fabricated by Johns & Waygood and erected by Concrete Constructions (NSW) Pty. Ltd. It was completed in 1981 and during the first year of operation attracted some 1.3 million visitors.
---
Organisations in Australian Science at Work - Concrete Constructions (NSW) Pty Ltd; Johns & Waygood; Wargon Chapman & Associates Pty Ltd

People in Bright Sparcs - Cameron, I. G.



© 1988 Print Edition pages 324 - 325, Online Edition 2000
Published by Australian Science and Technology Heritage Centre, using the Web Academic Resource Publisher
http://www.austehc.unimelb.edu.au/tia/324.html