Table of Contents
---
Chapter 6

I Construction During The Settlement Years

II The Use Of Timber As A Structural Material

III Structural Steel

IV Concrete Technology

V Housing

VI Industrialised Pre-cast Concrete Housing

VII Ports And Harbours

VIII Roads

IX Heavy Foundations

X Bridges

XI Sewerage

XII Water Engineering

XIII Railways

XIV Major Buildings

XV Airports

XVI Thermal Power Stations

XVII Materials Handling

XVIII Oil Industry

XIX The Snowy Mountains Scheme

XX The Sydney Opera House

XXI The Sydney Harbour Bridge

XXII Hamersley Iron

XXIII North West Shelf

Sources and References

---
Index
Search
Help
Contact us

Airports

Airport development is a relatively new component of Engineering Construction and Building, not only in Australia but also in the world. Airports date back to the post-First World War years and in Australia to 1921, when our first airline, Western Australian Airways, commenced operations between Geraldton and Broome, followed shortly afterwards by Qantas between Longreach and Charleville. Airports are volumetric, not linear, involving not only pavements, buildings and services, but also air-space, which could extend 20 kilometres from the ends of runways, five kilometres to each side, and several kilometres above them. The airport designer must plan for the requirements of aircraft, both on the ground and in this airspace.

As aircraft have developed from two- and four-seater machines of the early 1920s to those carrying 400 to 500 passengers today, larger than Captain Cook's Endeavour, there has been a growing requirement for more advanced technology in the design and construction of airports to handle them. This technology has not required very high mathematical and scientific skills, but sound basic engineering knowledge and practical experience, coupled with comprehensive knowledge of the operational requirements of aircraft in their takeoff and landing phases, and an ability to foresee and plan for the future requirements of a still developing vehicle.

Australian engineers and operational personnel, working both in this country and in the forums of the International Civil Aviation Organization (ICAO), have played a significant part in the development, by ICAO, of airport design standards, recommended practices and guidance material for use throughout the civil aviation world. This work has been embodied in Annex 14 (Aerodromes and Ground Aids) to the Chicago Convention on International Civil Aviation, first adopted in 1946 and continually updated and refined. With the strong Australian contribution to this ICAO activity, our airport design, including such elements as the dimensions and configuration of runways and other pavements, approach and other flight clearance surfaces, and airport lighting and surface markings, has in consequence closely followed this Annex 14 and its associated guidance material.

Airports can involve large engineering and construction projects. A first class airport in Australia in 1940 required a length of about 1400 metres of natural land surface. Today large international aircraft require at least 2500 metres of very high strength runway pavement. The total pavement of such an airport is approximately that of a road, six metres wide, from Sydney to Canberra.

Design of airport pavement configurations has developed in line with aircraft development. For example, better aircraft out-of-wind landing capability in the late 1940s reduced the number of runways required at an airport from three or four to one, or at most two. This simplified the overall pavement configuration, but faster aircraft and larger wheel assemblies required more complex pavement intersections. Australia is recognised as one of the world leaders in all this development. Technology developed in the 1960s by the Department of Civil Aviation (DCA, later to become the Department of Aviation, DofA) to determine optimum geometrical shapes for pavement intersections, has been used to increase both operational efficiency and economy at not only Australian, but also many overseas airports.

It is for good reason that runways have always been of particular significance in the development of Australian airports (Figs. 57 and 58). Until the mid-1930s, airports were natural grassed areas or bare ground such as clay-pans; smooth enough, according to an early Civil Aviation Board publication, for it to 'be possible to drive a car over the surface at 25 to 30 m.p.h. without discomfort'. There are, however, very few parts of Australia where grasses can be established to provide surfaces needed for frequent operation of even small aircraft. This, and the difficulty of providing and maintaining suitable surfaces from our natural soils, brought comparatively early runway development. We had runways in the mid-1930s at places such as Cloncurry, Newcastle Waters, Brunette Downs and Wyndham, before they had been developed at overseas airports except those serving a very few cities of Europe and the United States.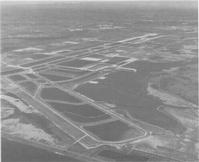 57 Brisbane Airport -new runways and associated pavements under construction, 1984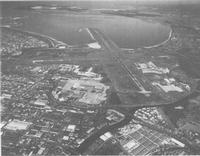 58 Kingsford Smith Airport, Sydney
---
Organisations in Australian Science at Work - Australia. Department of Aviation (D. of A.); Australia. Department of Civil Aviation (D.C.A.); International Civil Aviation Organization (I.C.A.O.); Western Australian Airways

People in Bright Sparcs - Bradfield, Dr K. N. E.



© 1988 Print Edition pages 391 - 394, Online Edition 2000
Published by Australian Science and Technology Heritage Centre, using the Web Academic Resource Publisher
http://www.austehc.unimelb.edu.au/tia/390.html