Table of Contents
---
Chapter 6

I Construction During The Settlement Years

II The Use Of Timber As A Structural Material

III Structural Steel

IV Concrete Technology

V Housing

VI Industrialised Pre-cast Concrete Housing

VII Ports And Harbours

VIII Roads

IX Heavy Foundations

X Bridges

XI Sewerage

XII Water Engineering

XIII Railways

XIV Major Buildings

XV Airports

XVI Thermal Power Stations

XVII Materials Handling

XVIII Oil Industry

XIX The Snowy Mountains Scheme

XX The Sydney Opera House

XXI The Sydney Harbour Bridge

XXII Hamersley Iron

XXIII North West Shelf

Sources and References

---
Index
Search
Help
Contact us

Major Buildings (continued)

There are, however, two aspects of its technology which are based on a reversion to Roman times: the finishes on the internal walls of the House of Representatives' Chamber and the earth covering of the major portion of the roof. The stucco finish adopted is applied with a cement render base, to which is added several trowelled coats of marble dust and lime putty, with a final coat of talc providing a lustrous finish. The earth covered roof has been adopted to fulfil an important aspect of design philosophy, which by permitting people to walk over the Chamber when in session, will demonstrate the superiority of the people over Parliament. The adoption of this concept has called for most stringent procedures in regard to the technology of water proofing. When completed this building will be one of the great modern buildings of the world.

The Australian National Animal Health Laboratory (A.N.A.H.L.), designed by the Department of Housing & Construction, in Geelong, Victoria (Fig. 56), is Australia's ultimate defence to protect our multi-million dollar livestock industry against disease. To effectively carry out its four main functions of diagnosis, training, research and vaccine development and testing, scientists at A.N.A.H.L. must work with potentially dangerous viruses. These viruses are controlled within the laboratory primarily by two specialised techniques, a 'box-within-a-box' configuration and a unique air handling system.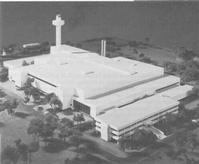 56 Model of the Australian Animal Healt Laboratory, Geelong, Victoria
The 'box-within-a-box' refers to a configuration of airtight cells in which a graduated system of negative air pressures is maintained to keep potentially hazardous materials inside the work area. Microbiological security is achieved through this configuration, which is three dimensional, using surrounding corridors, upper and lower floors and the external walls to create the innermost boxes where potentially dangerous material is handled. The work floor, comprising laboratories, large animal facilities and scientific support and services, is limited to one level of the five level building. To enter this floor staff must remove their street clothing, walk through a shower and wear special laboratory clothing. Shower entry and exit doors are airtight and interlocking to ensure that they cannot be opened simultaneously. For further security the laboratory was built using low shrinkage concrete and sealed precast panel construction.
The air handling system, in conjunction with the box-within-a-box configuration, captures and destroys air borne micro-organisms, which can be transported significant distances by air currents. Micro-organisms suspended in the air are removed by a process of high efficiency air filtration and, where necessary, heat sterilization. To establish a predictable flow of air, the air handling systems also create graduated negative air pressure regimes within the laboratory, which direct any leakage towards the innermost boxes, where air pressure is at its lowest. The control of the regimes is maintained by microprocessor-based electronic controllers, which were developed by engineers of the Department of Housing and Construction. Both the high efficiency air filter housings and microprocessor-based controllers are subject to world patents.
---
Organisations in Australian Science at Work - Australia. Department of Housing and Construction (D.H.C.); Australia. Department of Works and Housing (D.W.H.)

People in Bright Sparcs - Haskell, Prof. J. C.



© 1988 Print Edition page 391, Online Edition 2000
Published by Australian Science and Technology Heritage Centre, using the Web Academic Resource Publisher
http://www.austehc.unimelb.edu.au/tia/389.html