Table of Contents
---
Chapter 6

I Construction During The Settlement Years

II The Use Of Timber As A Structural Material

III Structural Steel

IV Concrete Technology

V Housing

VI Industrialised Pre-cast Concrete Housing

VII Ports And Harbours

VIII Roads

IX Heavy Foundations

X Bridges

XI Sewerage

XII Water Engineering

XIII Railways

XIV Major Buildings

XV Airports

XVI Thermal Power Stations

XVII Materials Handling

XVIII Oil Industry

XIX The Snowy Mountains Scheme

XX The Sydney Opera House

XXI The Sydney Harbour Bridge

XXII Hamersley Iron

XXIII North West Shelf

Sources and References

---
Index
Search
Help
Contact us

The Sydney Opera House

It is probably not an exaggeration to say that most of the world is aware of the unique shape and beauty of the Sydney Opera House (Fig. 76). Its silhouette is so integrated with the image of Sydney that the two are inseparable. Basically, it is a series of freestanding gothic-type arches with the enclosed areas adapted to cater for Opera, Ballet, Drama, Films, Exhibitions, Restaurants, etc. These arches consist of precast segments that have been erected and post-tensioned together to form a monolithic structure. The structure is tensioned longitudinally with the segments and it is also stressed transversely across the shells. In addition, there is a circular group of tensioning cables surrounding the arch hinges at the podium level. These cables are tensioned to take care of the horizontal bursting pressure imposed by the weight of the shells. The whole structure is covered in semi-glazed white precast tile panels which are fixed to the external surfaces of the arches. The brilliant concept of the Opera House was developed by the Danish architect, Joern Utzon and detailed design was by the Public Works Department of NSW, supported by several Australian engineering and architectural consulting groups.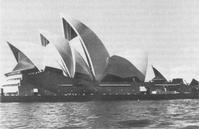 76 Completed Sydney Opera House, Sydney
Because of the unique shape of the Opera House, many new and innovative construction and design techniques had to be developed. In the early sixties, when this structure was started, most of these were at the leading edge of the state-of-the-art of concrete construction at that time.
Over 50 per cent of the total volume of concrete in the Opera House was precast, and this represents over 6000 individual items, all of which were very complicated as to dimension and form and had to be cast to exceedingly accurate tolerances. The design and operation of the casting yard to produce these precast units was in itself a major engineering feat. Rigid control of concrete mixtures and an improved technique of vibrating the concrete had to be developed in order to produce the perfect finishes which were achieved. No touching-up was allowed to the surfaces prior to erection. A casual stroll around the Opera House will attest to the superior finish obtained. In spite of the rigid standards, only two or three segments out of the total had to be rejected because they were not up to requirements.
The erection of the precast items (Fig. 77) was a challenging exercise in ingenuity and fully matched the bold challenge the structure presented. Free-standing self-erecting tower cranes were positioned in such a way as to command the whole of the construction site.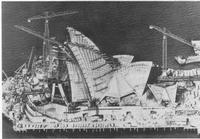 77 Sydney Opera House under construction
---
People in Bright Sparcs - Noe, G. W.; Utzon, Joern



© 1988 Print Edition page 423, Online Edition 2000
Published by Australian Science and Technology Heritage Centre, using the Web Academic Resource Publisher
http://www.austehc.unimelb.edu.au/tia/424.html