Table of Contents
---
Chapter 6

I Construction During The Settlement Years

II The Use Of Timber As A Structural Material

III Structural Steel

IV Concrete Technology

V Housing

VI Industrialised Pre-cast Concrete Housing

VII Ports And Harbours

VIII Roads

IX Heavy Foundations

X Bridges

XI Sewerage

XII Water Engineering

XIII Railways

XIV Major Buildings

XV Airports

XVI Thermal Power Stations

XVII Materials Handling

XVIII Oil Industry

XIX The Snowy Mountains Scheme

XX The Sydney Opera House

XXI The Sydney Harbour Bridge

XXII Hamersley Iron

XXIII North West Shelf

Sources and References

---
Index
Search
Help
Contact us

The Sydney Harbour Bridge

Though not quite the longest span, Sydney Harbour Bridge, linking Dawes Point and Milson's Point, is undoubtedly the greatest of the world's arch bridges (Fig. 78). The driving force behind the realization of this great bridge was Dr. J. J. C. Bradfield of the N.S.W. Public Works Department, who was to become Chief Engineer for the project. He was responsible for the concept and the general design and documentation on which design/construct tenders were called. The contract was let on 24th March, 1924 to Dorman Long & Company in Middlesborough, England, who retained the services of Sir Ralph Freeman for the detailed design of the structure. The bridge was officially opened on 19th March, 1932 by Mr. J. T. Lang, Premier of N.S.W.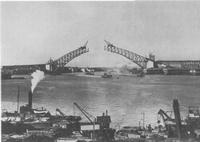 78 Sydney Harbour Bridge -Six Panels to close, three on each side, gap only 360 feet -Photo taken 20.6.1930
Extensive approaches on either side were included in the contract; the arch span is 503 m, 0.6 m shorter than the Bayonne Bridge across the Kill van Kull in New York. A total of 39,000 tonnes of structural steel was used, over two-thirds of it silicon steel, with a yield point of 309 MPA. Most of the steel was manufactured in Dorman Long's works in Middlesborough, but the fabrication was carried out at site in workshops specially constructed for the purpose at Milson's Point. Dorman Long's tender price, including the distinctive granite pylons at the springings, was just under £4 1/4 million.
The bridge is founded on sandstone rock excavated to a depth of 12 m and filled with mass concrete. Each half arch was built out from either side of the harbour, using a creeper crane with a lifting capacity of 122 tonnes, which travelled on the top chords of the arch. The half arches were secured by wire ropes, anchored in inclined U-shaped tunnels cut into the rock well behind the springings (Fig. 79). Each anchorage consisted of 128 wire ropes of 70 mm diameter, about 366 m long. The steelwork from the fabricating shops was brought under the creeper cranes on barges. When erection reached mid-span, the critical operation of closing the arch was achieved by lowering out on the wire rope anchorages to connect at bottom chord level, following which the required load was jacked into the top chord to make the arch two-pinned. The temporary wire rope anchorages were then removed and the creeper cranes returned down the arch, erecting the hangers and deck steelwork as they went along. Deck concreting and finishing then followed.
79 Anchorage of cantilever of Sydney Harbour Bridge
---
Organisations in Australian Science at Work - Dorman Long and Company, Middlesborough, England; N.S.W. Public Works Department

People in Bright Sparcs - Bradfield, Dr J. J. C.; Freeman, Sir Ralph; Kinsella, J.



© 1988 Print Edition pages 425 - 426, Online Edition 2000
Published by Australian Science and Technology Heritage Centre, using the Web Academic Resource Publisher
http://www.austehc.unimelb.edu.au/tia/426.html