Table of Contents
---
Chapter 7

I The First 100 Years 1788-1888

II Railways

III Motorised Vehicles

IV Aviation

V Modern Shipping

VI Innovative Small Craft

VII Conclusion

VIII Acknowledgements

IX Contributors

References

---
Index
Search
Help
Contact us

The First 100 Years 1788-1888 (continued)

Coachbuilding works were set up with workshops for wheelwrights, blacksmiths and harness makers, in Bathurst, Brisbane and Charleville. The coaches which emerged from these works were considerably modified from the original Concord design. Where the Concord bodies had been egg-shaped, the Cobb and Co., coaches were 'severely rectangular and with flat floors'.[78] This new shape enabled the body to be set very low on nearly straight braces. Furthermore, as the coaches were confined more and more to the outback by the extending rail lines, a problem developed. In the hot interior the wood of the body and wheels tended to crack and split as it dried out. Thus 'Cobb and Co., moved their principal coachbuilding factory to Charleville in Queensland where stocks of timber could be seasoned in a hot dry climate'.[79] According to Austin the coaches from the Charleville factory were 'the last and most successful of man's attempts to ally his own ingenuity with the strength of the horse to produce an ideal vehicle for conditions encountered in virgin country'.[80]

The railways eventually superseded coaching services in Australia, however, it occurred over a long period of time. There were many areas in the huge country where a railway network would never extend, for population was still relatively sparse. Indeed, Cobb and Co. remained in business until 1924 when its last service from Surat to Yeulba was closed down.[81]

The horse and the bullock have played a very important part in early transport, hauling the coaches of Cobb and Co., or struggling along in front of drays and carts. Teams of donkeys were also extensively used in Western Australia and South Australia although they have received less attention in the history books. Another important animal, which has often been overlooked, is the camel, which played such a significant role in opening up the dry interior. Despite the fact that camels do not represent a technical innovation in Australian transport, their contribution is worthy of comment.

The first camels arrived in Australia in the 1860s and were used by explorers. Burke and Wills, for example took 26 camels on their ill-fated expedition across the continent. The value of the camel, both for carrying goods and for riding, especially in dry areas, was quickly recognised, and by 1866 Sir Thomas Elder had imported 120 camels from Karachi and established a camel breeding station at Beltana, South Australia. Pack camels, worked by 'Afghans', carried goods in every State except Victoria. Between 1870-1872, for example, they carried the poles, wire, and other goods and equipment needed to build the overland telegraph between Adelaide and Darwin. From 1912 to 1917 they carried all the equipment needed in the building of the transcontinental railway line across the Nullabor. Other breeding stations were quickly established in Queensland and Western Australia, for camels had become the chief method of inland transport to isolated sheep station and mining communities. Strings of camels carried goods and stores inland, and returned to sale yards and rail heads loaded with wool and mineral ore. Not only were camels used as pack animals, they were also ridden or harnessed to pull carts. They pulled traps and buggies; large teams hauled drays with up to two tons of weight. When used as draught animals a special harness called a spider was needed.[82]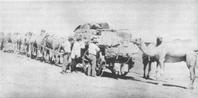 2 Transport by camel train, Maree, South Australia 1937 (La Trobe Collection, State Library of Victoria)
---
People in Bright Sparcs - Burke, Robert O'Hara; Elder, Sir Thomas; Inglis, Andrea; Wills, William John



© 1988 Print Edition page 458, Online Edition 2000
Published by Australian Science and Technology Heritage Centre, using the Web Academic Resource Publisher
http://www.austehc.unimelb.edu.au/tia/446.html