Table of Contents
---
Chapter 7

I The First 100 Years 1788-1888

II Railways

III Motorised Vehicles
i Trucks
ii Truck Manufacturing
iii Road Trains
iv The Diesel Electric Ore Trucks
v Buses and Coaches

IV Aviation

V Modern Shipping

VI Innovative Small Craft

VII Conclusion

VIII Acknowledgements

IX Contributors

References

---
Index
Search
Help
Contact us

Motorised Vehicles

Following the application by Watt, of steam, with his heat engine in 1779 and the locomotive development by Stevenson with The Rocket in 1829, it was a logical step to harness steam as power to the 'horseless carriages' and some steam coaches were used as public transport in England between 1827 and 1865.

One of Australia's earliest steam driven cars (Fig. 14) was designed and built by Herbert Thomson and Edward Holmes of High Street, Armadale, Melbourne in 1896/7 and exhibited in 1900 using the first pneumatic tyres made in Australia by Dunlop.[1] This 5 h.p. single cylinder Phaeton steam carriage which is now in the Institute of Applied Sciences, Melbourne, was sufficiently reliable and durable to enable Thomson and a friend to drive 493 miles from Bathurst to Melbourne at an average speed
of 8.7 m.p.h.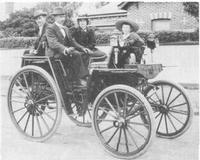 14 The Thomson steam car built 1896 (photo courtesy Museum of Victoria)
Another steam engine manufacturer was David Shearer of Mannum on the River Murray in South Australia. In his agricultural machinery plant he designed and built a steam carriage described in 1899 in the following way
So far it has given great satisfaction being able to drive up grades at the rate of ten miles an hour and this with ordinary iron tyres. The generator is a water tube boiler constructed with three drums. The upper one the steam and the two lower the water, whilst a nest of water tubes connect the three drums together, forming a triangle, the water being held in the tubes and lower drum and the fire grate between them. The boiler is tested to 500 Ibs per square inch and works at a pressure of 220 Ibs. The motor is a pair of engines worked with link motion, and reversible by a system for heating the exhaust steam. Before leaving the motor all the oil used in lubricating the cylinders is burnt up and all steam rendered invisible through being perfectly dried before leaving the motor.[2]
The Shearer car was exhibited at the Adelaide Chamber of Manufacturers' Exhibition in 1900, but steam powered machines were so unusual as to need permission from the Mayor of Adelaide to drive on the city streets.[3]
Steam powered tractors or traction engines were used for logging and clearing, particularly in Victoria and Western Queensland, and in some instances similar vehicles were used as freight transport of goods and people. In 1911 Brambles Transport Company used steam wagons, which were chain driven flat top vehicles with solid rubber tyres, for their growing feeder service to the rail head at Newcastle.[4]
Colwell has pointed out that by 'the turn of the century there were a number of steam cars, one of which was the steam locomobile, which was reputed to take fifteen minutes from cold to mobile'.[5] About the same time other steamers were built by McIntosh of Picton, New South Wales, Johann Zeigler of Allansford, Victoria, Archie Campbell of Hobart, Tasmania and Finlayson Brothers of Devonport, Tasmania.
---
Organisations in Australian Science at Work - Brambles Transport Company; Finlayson Bros., Devonport, Tas.

People in Bright Sparcs - Campbell, Archie; Colwell, Max; Holmes, Edward; Shearer, David; Thomson, Herbert; Zeigler, Johann



© 1988 Print Edition pages 484 - 485, Online Edition 2000
Published by Australian Science and Technology Heritage Centre, using the Web Academic Resource Publisher
http://www.austehc.unimelb.edu.au/tia/478.html