Table of Contents
---
Chapter 7

I The First 100 Years 1788-1888

II Railways

III Motorised Vehicles
i Trucks
ii Truck Manufacturing
iii Road Trains
iv The Diesel Electric Ore Trucks
v Buses and Coaches

IV Aviation

V Modern Shipping

VI Innovative Small Craft

VII Conclusion

VIII Acknowledgements

IX Contributors

References

---
Index
Search
Help
Contact us

Motorised Vehicles (continued)

It is interesting to note that the idea of a practical steam car has been maintained over the years and in recent times the Pritchard steam car was developed in Melbourne incorporating modern technology into a long established concept.

Great interest was shown in the performance of the Pritchard steam car and, in an era where air pollution is a serious issue, the pollution free feature of this vehicle caused the government in 1970 to support further development of the project. Although, from a technical viewpoint, the prototype engine finally reached a high level of sophistication, it was not judged commercially viable and did not go into production.

Pioneers in Australian automobile development were remarkably well informed of activities overseas and several attempts were made to construct a car using the internal combustion engine. It is interesting to reflect that Australian inventors were very active at the very beginning of both car and aircraft development and in some areas abreast of their overseas counterparts. In a land as isolated as Australia before the turn of the century, people were thrown on their own resources and there were examples of astonishing ingenuity, not only in adaption, but also in advancing the state of the art.

In 1897 Harry A. Tarrant produced his first car and probably the first petrol-driven car manufactured in Australia, in a small workshop in Post Office Place, Melbourne, where Tarrant had been manufacturing stationary engines. Tarrant was later joined by Howard Lewis, a bicycle maker, and in 1901 at new premises located in Queensbridge Street, South Melbourne, produced another car, using a 6 h.p. Benz engine mounted in the rear.

This petrol driven automobile was called the Tarrant and was followed by a number of improved designs, including the first fully enclosed body made in Australia. Later models included locally designed and manufactured engines, gearboxes and rear axles and were unique vehicles except for imported radiator, magneto and carburettor. Harry Tarrant took on the Ford dealer/assembler franchise in 1909 and later became associated with many other marques, including Sunbeam, Mercedes, Fiat and Rover. Colonel Tarrant was a remarkable entrepreneur whose inventive ability in producing early petrol driven cars places him among the pioneers in international automobile production.[6]

The approach of the internal combustion car era was foreseen by many as a long awaited means of conquering distance which had so much to do with the development of commerce and heralded a change in the speed of movement of goods and people. As early as 1903 the Australian Motoring Association was formed in New South Wales, South Australia and Victoria to protect the interests of pioneer motorists. In later years this association was followed by the Australian Automobile Association in 1924.[7]

Early cars, whether manufactured in Europe or U.S.A., were constructed by craftsmen as specialty machinery, consequently expensive, and directed at the well-to-do adventurous souls who delighted in engineering novelty. It was not until 1909 when Henry Ford conceived the volume manufacture of a reliable and durable vehicle which was priced to sell to mass markets, that the road transport revolution really began. The Model T Ford (Fig. 15) was a basic vehicle, simple to repair and with a high clearance, wide track, which could negotiate appalling road conditions with ease.[8]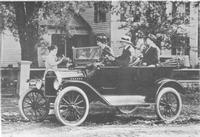 15 Ford Model T 13 vintage (photo courtesy Ford Motor Company of Australia Limited)
---
Organisations in Australian Science at Work - Australian Automobile Association; Australian Motoring Association

People in Bright Sparcs - Lewis, Howard



© 1988 Print Edition pages 485 - 487, Online Edition 2000
Published by Australian Science and Technology Heritage Centre, using the Web Academic Resource Publisher
http://www.austehc.unimelb.edu.au/tia/479.html