Table of Contents
---
Chapter 7

I The First 100 Years 1788-1888

II Railways

III Motorised Vehicles
i Trucks
ii Truck Manufacturing
iii Road Trains
iv The Diesel Electric Ore Trucks
v Buses and Coaches

IV Aviation

V Modern Shipping

VI Innovative Small Craft

VII Conclusion

VIII Acknowledgements

IX Contributors

References

---
Index
Search
Help
Contact us

Buses and Coaches
It seems a natural evolution that the stage coaches of the 19th century, such as those operated by Cobb and Co. should give way to motor powered buses and coaches. In 1903 Humble and Son, a Geelong engineering works, constructed several buses powered by twin cylinder De Deon engine.[22] It is thought that these were the first buses built in Australia. In 1905 the New South Wales Government Tramways experimented with steam buses in Sydney. The Hobart Electric Tramways Company operated two Milnes-Daimler petrol engined double deckers for some months, also in 1905, and similar trials were conducted in other States.[23]

The increasing reliability of motor cars and trucks during the first quarter of the twentieth century saw the conversion of both to bus operation (Fig. 23), originally on solid rubber tyres and later equipped with pneumatic tyres. Local bus body builders began to construct custom type bodies to replace the crude conversion and makeshift side construction of earlier times.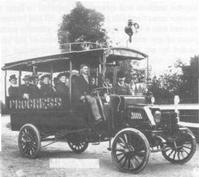 23 Early bus constructed by Humble and Son, Geelong 1906 (La Trobe Collection State Library of Victoria)
The introduction of buses had a detrimental effect on the revenue of trams and competed for patronage. In the late 1920s State legislation was enacted to limit competition, as a means of protecting state owned assets. In later years the various governments initiated bus services of their own to supplement the tram services which they finally replaced in most major cities.[24]
A major activity for buses was generated when first Tasmania and then the other States opted in 1936 for a more centralised school system that revolutionised rural education.[25]
In the late 1940s R. M. Ansett began regular extended interstate tours, acquiring the Pioneer organisation. As a result of the Hughes and Vale case in 1954, inter-State tour and express services were exempted from regulations by virtue of the provisions of Section 92 of the Australian Constitution. Express coach services were developed in direct competition with the railways, linking all capital cities and providing other long distance service.
The Sydney bus system is one of the world's largest, covering some 850 kilometres of road and operating more than 1500 buses.
Technical improvement in bus equipment and construction has seen a move from petrol powered truck conversions to diesel rear engined or underfloor as part of a specially designed coach body. Buses are designed for specific tasks, some are double-decker, some actuate to negotiate corners and some are of a semi-trailer type for high carrying capacity. Australian bus building companies have developed a series of designs which are produced in quantity and one of these designs, developed by Pressed Metal Pty Ltd, was used by Hyundai of South Korea when that company commenced bus manufacture in the 1950s.
An unusual and innovative prototype underfloor engined bus for feeder work was developed by R. Roberts and S. E. Dick at the Commonwealth Engineering Company in Sydney in 1955 called the Fleetline -no connection with the U.K. Daimler. Fleetline double-deck vehicle -and built for Hastings Deering, the Ford Commercial vehicle distributor. The Fleetline bus had a generally conventional high-floor chassis, but with a Ford V-8 petrol truck engine, plate clutch and conventional gearbox under the floor; the radiator was frontal, behind the front bumper bar. The structure of the body was very innovative, comprising modular body side framing made in handed top-hat sections and spot welded together to form strong box members. Each frame module comprised side pillar and top, sill and bottom rails (including a diagonal brace) pressed into a Christmas tree pattern, whereby each module extended from the mid-point of one window bay to the midpoint of the next, adjoining modules being connected by arc welding. This novel construction proved extremely strong and very durable; other (diesel) buses employing it are still in use after over 30 years' service.
---
Organisations in Australian Science at Work - COMENG; Hastings Deering; Hobart Electric Tramways Company; Humble and Son, Geelong; N.S.W. Government Tramways; Pressed Metal Pty Ltd

People in Bright Sparcs - Ansett, R. M.; Dick, S. E.; Roberts, R.



© 1988 Print Edition pages 500 - 501, Online Edition 2000
Published by Australian Science and Technology Heritage Centre, using the Web Academic Resource Publisher
http://www.austehc.unimelb.edu.au/tia/494.html