Table of Contents
---
Chapter 7

I The First 100 Years 1788-1888

II Railways

III Motorised Vehicles
i Trucks
ii Truck Manufacturing
iii Road Trains
iv The Diesel Electric Ore Trucks
v Buses and Coaches

IV Aviation

V Modern Shipping

VI Innovative Small Craft

VII Conclusion

VIII Acknowledgements

IX Contributors

References

---
Index
Search
Help
Contact us

Road Trains
In remote areas of Australia, where railways are many hundreds of kilometres from the cattle or sheep stations, transport to markets has been effected by using road trains. This is a name given to a large diesel powered prime mover coupled to several trailing vans which are often multi-decked. The road train is equipped with large pneumatic tyres, hydraulic brakes and a capacity to haul hundreds of animals over long distances. The road train is, in fact, a train that runs on rubber and can negotiate the outback areas where unsealed roads predominate. This specialised truck application (Fig. 22) is an outcome of our geography, the limitations of railway coverage and the vital needs of the station owners -a technical solution peculiarly useful to outback Australia. These huge road trains criss-cross the outback moving cattle and other animals directly from the stations to their destination. These very large and powerful rigs with multi-decked trailers behind full of animals are an impressive sight as they speed across the plains followed by a cloud of dust and the roar of their diesel engines.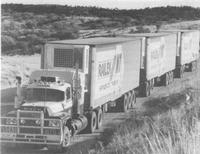 22 Transport in outback Australia by road train (photo courtesy Mayne Nickless)
The road train transport system is a vital link in servicing the remote sheep and cattle stations of the Australian interior.
---

© 1988 Print Edition page 499, Online Edition 2000
Published by Australian Science and Technology Heritage Centre, using the Web Academic Resource Publisher
http://www.austehc.unimelb.edu.au/tia/492.html