Table of Contents
---
Chapter 7

I The First 100 Years 1788-1888

II Railways

III Motorised Vehicles
i Trucks
ii Truck Manufacturing
iii Road Trains
iv The Diesel Electric Ore Trucks
v Buses and Coaches

IV Aviation

V Modern Shipping

VI Innovative Small Craft

VII Conclusion

VIII Acknowledgements

IX Contributors

References

---
Index
Search
Help
Contact us

Trucks
Motorised road freight appears to have begun in 1903, when Melbourne papers were delivered by car to Kyneton, Castlemaine and Bendigo during a railway strike.[19] Walter Brambles started business in 1890 at Hinton on the Hunter river near Newcastle, operating to and from the railhead. His business grew, handling almost all local supplies of wool, milk, dairy produce, meat, sugar, salt and horse fodder. The business was incorporated in 1925, and in 1937 moved into Port Kembla and subsequently to Sydney.[20] This type of growth is typical of other transport companies such as Mayne Nickless and as roads improved and better equipment became available, these operations moved out in all directions, displacing the wagon and competing with all other forms of transport.

Road transport as we know it today, began with the establishment of the major automobile companies in 1925-26, where truck assembly was an adjunct to motor car production. The number of trucks registered grew rapidly during the nineteen twenties. For example, in New South Wales the number of trucks registered in 1921 at 3524 grew to 42,594 in 1929 and for comparison the figure increased to 83,977 ten years later (1939). This represents a growth of from 7 per cent of total vehicles registered in 1920 to 26 per cent in 1939. Not only did truck numbers increase on the roads but their carrying capacity and power grew significantly[21] (Fig. 21).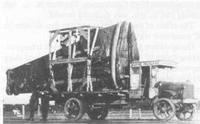 21 Early truck transport showing two Mayne Nickless White trucks carrying wings of Junkers aircraft for assembly at Point Cook, Victoria 1926 (photo courtesy Mayne Nickless)
The efficiency of larger trucks with door to door capacity became a source of concern to State governments because of the detrimental effect on railway finances. In 1931 the New South Wales government introduced the State Transport (co-ordination) Act under which road operators had to have a licence. The licence defined the route to be taken and the rate to be charged. Generally, no limit was placed on transport within 50 miles of the operator base, but outside this limit, the operator was required to pay a tax known as co-ordination tax, which would be levied at a rate per ton mile up to a specific maximum. This New South Wales legislation, later copied by all States, effectively priced many long haul road operations out of the market. The State Transport Act was subject to a challenge by large operators in the High Court in 1933 but the Court upheld the validity of the legislation and this road system continued until after the Second World War.
With the accelerated use of trucks after the war, aided by better roads and larger, more efficient vehicles, competition with the railways became fierce and even the maximum levy did not prove protective. In 1954, another major challenge was brought against the New South Wales Act in the Hughes and Vale case. The legislation, as in previous transport cases, was upheld in the High Court, but was declared invalid on appeal to the Privy Council. Legislation in other States was also declared invalid in subsequent High Court cases. The New South Wales government amended the legislation, but it, too, was declared invalid.
---
Organisations in Australian Science at Work - Mayne Nickless Ltd

People in Bright Sparcs - Brambles, Walter



© 1988 Print Edition pages 496 - 497, Online Edition 2000
Published by Australian Science and Technology Heritage Centre, using the Web Academic Resource Publisher
http://www.austehc.unimelb.edu.au/tia/489.html