Table of Contents
---
Chapter 7

I The First 100 Years 1788-1888

II Railways

III Motorised Vehicles

IV Aviation

V Modern Shipping

VI Innovative Small Craft
i Salvage

VII Conclusion

VIII Acknowledgements

IX Contributors

References

---
Index
Search
Help
Contact us

Innovative Small Craft

Australian innovation in ferry technology which was first evident in the development of the double ended Sydney ferry boat Rapid in 1836 have continued with hydrofoil and hydroplane designs in recent years. One interesting outcome of racing sailing catamaran technology has been the wave piercing design of commercial catamarans built by International Catamarans Pty. Ltd., of Battery Point, Tasmania (Fig. 36). The Spirit of Victoria was designed and built in Tasmania as a Port Phillip Bay commuter and tourist vessel with capacity for 217 passengers and incorporates high speed with smooth ride. The fully welded aluminium alloy construction of the wave piercing catamaran with its engines contained in the hulls along with fuel and its high superstructure for passengers and crew is an advanced design in the ferry field.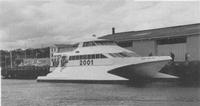 36 2001, the latest wave piercing catamaran built by International Catamarans Pty. Ltd. (photo courtesy International Catamarans Pty. Ltd.)
Another example of technologically sophisticated hull design conceived and developed in Australia is Stolkraft, a high speed vessel using aircraft lift techniques on hydrodynamic principles as applicable to planing craft and aerodynamics at high speeds, achieved solely by the forward speed of the craft in association with its unique hull form. This high speed vessel compares favourably with other forms of advanced marine craft such as hydrofoils and air cushion vehicles because the complication of separate lift fans, flexible skirts or vulnerable foil systems are avoided. The influence of the air cushion developed by the hull design is significant and at high speeds about 85 per cent of the weight of the craft is borne by dynamic forces. Commercial applications of Stolkraft (Fig. 37) are operating on the Brisbane river.[7]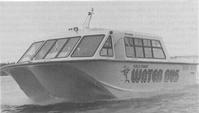 37 Ferry boat application of Stolkraft hull design (photo courtesy Stolkraft International Pty. Ltd.)
Progress in ship design has in no small measure been associated with the material used in construction. Over the last 200 years ships have been built of timber, iron (lowmoor), steel, aluminium alloy and in recent times, reinforced plastic.
Although reinforced plastic is generally used for pleasure craft, a recent development initiated by the Australian Navy and implemented by Carrington Shipways Pty. Ltd., has resulted in a unique catamaran mine hunter (Fig. 38) of 170 tons displacement at full load, being constructed of foam sandwich glass reinforced plastic. This lightweight, non-magnetic material is strongly resistant to the effect of underwater explosions and hence most suitable for anti-mine warfare vessels. The concept of a foam sandwich glass reinforced plastic constructed mine hunter is novel and developed in Australia as an elegant solution to a difficult naval problem.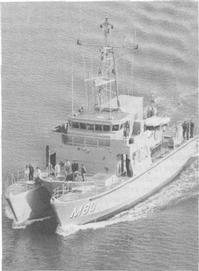 38 HMAS Rushcutter, 170 tonnes reinforced plastic catamaran mine hunter (photo courtesy Carrington Slipways Pty. Ltd.)
---
Organisations in Australian Science at Work - Carrington Slipways Pty Ltd, Newcastle; International Catamarans Pty Ltd

People in Bright Sparcs - Colquhoun, Alan R.



© 1988 Print Edition page 526, Online Edition 2000
Published by Australian Science and Technology Heritage Centre, using the Web Academic Resource Publisher
http://www.austehc.unimelb.edu.au/tia/520.html