Table of Contents
---
Chapter 7

I The First 100 Years 1788-1888

II Railways

III Motorised Vehicles
i Trucks
ii Truck Manufacturing
iii Road Trains
iv The Diesel Electric Ore Trucks
v Buses and Coaches

IV Aviation

V Modern Shipping

VI Innovative Small Craft

VII Conclusion

VIII Acknowledgements

IX Contributors

References

---
Index
Search
Help
Contact us

Motorised Vehicles (continued)

The Ford car became a replacement for the horse and buggy in Australia, and although originally purchased by the more affluent members of the community, it soon came to be seen, not so much as a luxury but as a practical and economical form of transport for people in all walks of life. Many are the stories of drivers' exploits with their faithful Model Ts and it seemed that the added mobility gave a sense of urgency to every day life and established the motor car as no longer just a curiosity but as a practical vehicle of convenience. Modifications of the Model T by farmers, sportsmen and commercial firms became a small industry of its own and some very unusual 'specials' from hot Fronte Fords to improvised tractors displayed some real Australian originality.[9]

As an indication of the flood of cars imported into Australia, there were 15,000 cars brought into the country in 1917, of which 10,000 were Model T Fords, 2,300 Dodges, 1500 Buicks and 1200 others.

The experiences and hardships of pioneer motorists, particularly in the outback, has become Australian folklore (Fig. 16), as described by Max Colwell in his book Australian Transport
The ability to repair almost any part of the vehicle with makeshift tools and fencing wire; of stuffing tyres with spinifex as a last resort and using leather hacked from the driver's boot as a friction pad between slipping clutch plates. The ordeals of bogged vehicles in appalling tracks; of using wide greenhide belts passing under the back and front mudguards, transforming the car into a kind of caterpillar tractor which would cross sand under its own power. Not to mention the misery of endless road corrugations which inflicted crippling punishment on drivers of inadequately sprung vehicles, together with the inevitable punctures which were a regular feature of early motoring, aggravated by the high pressure required by the tyre's construction. These were days when drivers were forced to use their initiative and imagination to keep their vehicles running and to overcome the hazards of the road. Stories of their exploits abound.[10]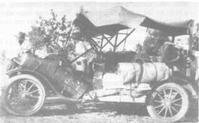 16 1919 Ford Model T extensively modified for 'outback' travel (La Trobe Collection State Library of Victoria)
In the early years of the new century the arrival of large numbers of imported cars began to make a serious impact on the established coach and carriage building industry and in 1902 the Government imposed customs duty on imported motor bodies to encourage local manufacture.
Overseas vehicle manufacturers established dealer-assemblers who assembled the chassis which arrived in a semi knocked-down (K.D.) condition and added a body, often of local design and manufacture. In 1913 about 2000 bodies were produced locally and 4900 imported. The Government imposed a ban on importation of motor bodies in 1917 to conserve foreign exchange and shipping space. In the following year, however, an unorthodox plan was introduced which allowed one motor body to be imported for every two chassis. The incentives were such that the dealer assemblers entered into or encouraged others to enter into, the motor body building business to permit sale of complete cars using the imported chassis, and the industry grew with a very large number of different makes being offered for sale.[11] In 1924 the records show that the number of different new car types sold in Australia were 102 of which about 40 per cent originated from the United Kingdom, 10 per cent from Europe and 50 per cent from North America.[12]
---
People in Bright Sparcs - Colwell, Max



© 1988 Print Edition pages 487 - 488, Online Edition 2000
Published by Australian Science and Technology Heritage Centre, using the Web Academic Resource Publisher
http://www.austehc.unimelb.edu.au/tia/480.html