Table of Contents
---
Chapter 7

I The First 100 Years 1788-1888

II Railways

III Motorised Vehicles
i Trucks
ii Truck Manufacturing
iii Road Trains
iv The Diesel Electric Ore Trucks
v Buses and Coaches

IV Aviation

V Modern Shipping

VI Innovative Small Craft

VII Conclusion

VIII Acknowledgements

IX Contributors

References

---
Index
Search
Help
Contact us

Motorised Vehicles (continued)

The ingenuity of motor car assemblers was evident when bodies of virtually standard construction were fitted to chassis imported from different manufacturers. The term chassis includes the chassis proper, engine, rear axle, drive line and running gear, together with front fenders, bonnet, instrument panel and instruments and glass windscreen. The body was simply the sprung passenger carrying compartment, which equated to the coach and drew its design and manufacture directly from the existing coach and carriage builders. The advent of cheaper motor cars, slowly at first, but in an ever increasing rate, changed the whole transport arrangements and in its wake changed the lifestyle of Australians. The motor car did replace the horse but to be used effectively needed better roads, service garages, petrol and oil stations and replacement parts. A whole industry was generated by the motor car invasion in the sale, service, financing and parts supply business.

In 1920 Mr. A. G. M. Michell formed a company, Crankless Engines (Australia) Pty. Ltd., to develop and design various types of crankless machines (Fig. 17). Sydney Walker, a longtime employee of the firm, describes this unique series of engines in his article Modest Man of Genius published in 1972.
The essential feature of crankless engines was application of the inclined slipper principle of the Michell thrust bearing invention to the process of converting reciprocating motion to rotary motion. By 1927 the company had constructed over eighty machines of various types but among which were crankless engines for automobiles. In 1927, the major project was to complete and test the new model 5 cylinder automobile engine. There had been a continuing attention to improving the crankless automobile engine since the first engine had been designed and built in Melbourne in 1923 for demonstration overseas.[13]
The early work of A. G. M. Michell, in which he undertook a mathematical development and subsequent practical demonstration of the thrust bearing (discussed later under Modern Shipping) was a discovery of great international importance and his later application of the same principle to automobile engines, pumps, aeroplane engines, compressors and gas engines was technically innovative and a remarkable achieve ment. A. G. M. Michell was an outstanding engineer whose fertile mind grasped the potential for new and better mechanical arrangements and must be acknowledged as a master in his field.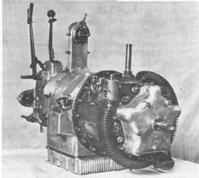 17 Five cylinder automotive crankless engine developed in Melbourne by AGM Michell 1921 (photo courtesy Museum of Victoria)
For a number of reasons, including the depression in the thirties, the Michell crankless engine was not generally used and certainly not in high volume automobile production. The concept and prototype development, however, remains the work of a gifted engineer.
---
Organisations in Australian Science at Work - Crankless Engines (Australia) Pty Ltd

People in Bright Sparcs - Michell, A. G. M.; Walker, Sydney



© 1988 Print Edition pages 488 - 489, Online Edition 2000
Published by Australian Science and Technology Heritage Centre, using the Web Academic Resource Publisher
http://www.austehc.unimelb.edu.au/tia/481.html