Table of Contents
---
Chapter 11

I The Present Energy Economy

II Australian Energy Consumption

III Research And Development

IV Coal
i Transition at the coal face
ii Further development of face mechanisation
iii Mechanisation outside the face area
iv Open-cut mining in NSW
v Open-cut mining in Queensland
vi Underground mining in Queensland
vii The state of the art
viii Conclusion

V Oil And Natural Gas

VI Solar Energy

VII Nuclear Energy

VIII Bagasse Firewood And Other Biomass

IX Electric Power Generation And Distribution electric Power Generation And Distribution

X Manufactured Gas

XI Industrial Process Heat

Sources

---
Index
Search
Help
Contact us

Further development of face mechanisation
The stage was now set for what has become the most significant developments in coal winning underground; which, listed in order of technology application, are coal cutting, coal loading, continuous mining, longwall mining.

The term 'continuous miner' is a misnomer in the sense that, although it combines a number of essential functions, it is not in fact continuous because of the limitations imposed upon its operations by the necessity to substitute an empty transport unit (shuttle car) for one that has been loaded, and must be taken to a discharge point. In addition, there are further down times occasioned by timbering, ventilation procedures and flitting from place to place. The sum total of these auxiliary necessities is that in optimum conditions a so-called continuous miner will not operate for more than 50 per cent of the available time at the face.

Longwall retreating

In working on a bord and pillar basis the available length of uninterrupted face that can be attacked is in the order of 50 m, thus limiting working time by the necessity to move to another location. This has long been recognised and mining operations on longer face lengths up to 200 m to 300 m have been used in many countries for well over a hundred years. Even when a longer face was presented, coal winning was still cyclical, mainly due to the time taken to timber unsupported roof and move the transport medium as the face advanced. Both latter operations were largely unco-ordinated and were carried out manually, thus imposing severe time delays.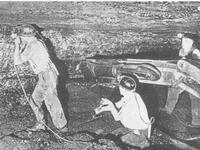 5 Early mechanisation. Coal cutting and boring in a New South Wales coal mine.
The Dowty Mining Company in England, who during the Second World War manufactured quantities of hydraulic pistons and cylinders for the aircraft industry, turned their attention at the termination of hostilities to the manufacture of individual assemblies for use as quickly placed roof supports instead of the more time consuming timber props, which in most cases would require measuring, cutting and erecting. The conception was a success and eventually led to whole assemblies of roof supports with a conveyor attached on which was mounted a coal cutting machine (shearer).
In essence the shearer (electrically driven) ran up and down a long face of some 200 metres and removed the coal. The hydraulic assemblies were retracted, the assemblies (chocks) moved forward and reset to support the roof. The conveyor moved forward to enable the shearer to be in a position to cut a new face. By using a flexible conveyor which could be snaked in the horizontal place, the whole operation was made continuous, with the exception of reversal at the face ends and was entirely hydraulically operated. The concept was introduced to NSW in 1963 but the early designs, although proven in the United Kingdom, were unsuitable for Australian conditions and it was not until the late 1970s that success was achieved. Production from longwall faces in NSW increased from 1624 tonnes in 1978/79 to 11,647 tonnes in 1985/86.
---

© 1988 Print Edition pages 789 - 790, Online Edition 2000
Published by Australian Science and Technology Heritage Centre, using the Web Academic Resource Publisher
http://www.austehc.unimelb.edu.au/tia/760.html