Table of Contents
---
Memories of the Bureau of Meteorology

Preface

Memories of the Bureau of Meteorology 1929–1946 by Allan Cornish

History of Major Meteorological Installation in Australia from 1945 to 1981 by Reg Stout

Four Years in the RAAF Meteorological Service by Keith Swan

The Bureau of Meteorology in Papua New Guinea in the 1950s by Col Glendinning
Foreword
Introduction
Brief History and Geography
Station Operations
Air Transport
The Port Moresby Office
Housing for Bureau Staff, Port Moresby
Staff Members and Their Families
Local Transport
Education
Entertaining, Sport and Lifestyle
Shopping Facilities
Malaria
Native Servants
Communication with Native Servants
Meteorology
Forecasting Problems in Port Moresby
Other Comments


---
Index
Search
Help
Contact us

Introduction
The following has been prepared from information that was contained in a collection of notes written during the rime I worked in the Territory of Papua and New Guinea (TPNG) from November 1956 to November 1959. Most of the period was spent in Port Moresby, but for a brief period I worked in Lae.

Unfortunately, the notes I have mentioned were destroyed in a sorting, retaining and discarding process shortly after I retired in July 1984. The recent publicity concerning the history of the Bureau of Meteorology, generated by former Director Dr W. J. (Bill) Gibbs, has prompted me to attempt to write, with the help of an atlas and published statistics, what I can remember of the contents of the notes.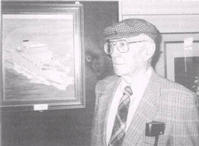 Col Glendinning at the Naval Museum in Sydney, May 1995.
---
People in Bright Sparcs - Gibbs, William James (Bill); Glendinning, Colin (Col)


Cornish, A., Stout, R., Swan, K and Glendinning, C. 1996 'Memories of the Bureau of Meteorology', Metarch Papers, No. 8 February 1996, Bureau of Meteorology

© Online Edition Australian Science and Technology Heritage Centre and Bureau of Meteorology 2001
Published by Australian Science and Technology Heritage Centre, using the Web Academic Resource Publisher
http://www.austehc.unimelb.edu.au/fam/0581.html