Table of Contents
---
Memories of the Bureau of Meteorology

Preface

Memories of the Bureau of Meteorology 1929–1946 by Allan Cornish

History of Major Meteorological Installation in Australia from 1945 to 1981 by Reg Stout

Four Years in the RAAF Meteorological Service by Keith Swan

The Bureau of Meteorology in Papua New Guinea in the 1950s by Col Glendinning
Foreword
Introduction
Brief History and Geography
Station Operations
Air Transport
The Port Moresby Office
Housing for Bureau Staff, Port Moresby
Staff Members and Their Families
Local Transport
Education
Entertaining, Sport and Lifestyle
Shopping Facilities
Malaria
Native Servants
Communication with Native Servants
Meteorology
Forecasting Problems in Port Moresby
Other Comments


---
Index
Search
Help
Contact us

Station Operations
The Bureau operated six offices in the Territory in the 1950s. Port Moresby and Lae were forecasting and observing offices. Madang, Rabaul, Manus and Sohano were observing offices. Forecasting services operated from 0300 hours to 1800 hours, but on occasions these hours were extended to cater for aviation requirements eg overflying military aircraft. The airports were closed operationally during the hours of darkness.

Although primarily established for aeronautical purposes, the Port Moresby office provided public weather and marine forecasting and warning services, including those for the South Pacific Post newspaper printed in Port Moresby, the local ABC radio station and the then Overseas Telecommunications Commission (OTC) which operated international communications links including coastal radio services for shipping.

Forecasts for shipping for the coastal areas and the ocean areas were provided for an area extending from Papua and New Guinea waters to the Solomons. Storm warnings were also issued for the area for which coastal and ocean forecasts were prepared. Port Moresby was not permitted to issue tropical cyclone warnings, these were issued by Brisbane. On one occasion, a confrontation developed between Port Moresby and Brisbane. A cyclone was detected in the Solomons by the Lae and the Port Moresby offices, and an appropriately worded storm warning was issued by the Port Moresby office. This warning prompted the Brisbane office to issue a cyclone warning, and it also created another reaction from Brisbane. Correspondence between the two offices indicated that Brisbane felt that Port Moresby had usurped the Brisbane office's authority concerning the issue of tropical cyclone warnings. The Port Moresby office reacted correctly to the situation and in accordance with the published instructions. This tropical cyclone moved south south west through the Coral Sea towards the Queensland coast, and was the one cyclone in fifty years in the month of June to affect that coast.

The Lae office conducted relatively reliable radiosonde and upper wind observations, but only limited use was made of this data at Port Moresby, primarily in international route forecast exchanges. Port Moresby made only visual upper wind flights which were much less reliable and which yielded much less data. The forecasting staff at Port Moresby were very critical of this situation.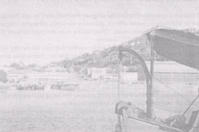 Main inner wharf, Port Moresby, 1959. Paga Hill is in the background.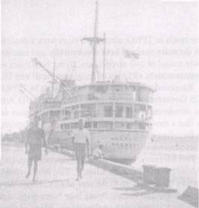 Bulolo at main outer wharf, Port Moresby, 1959.
---
People in Bright Sparcs - Glendinning, Colin (Col)


Cornish, A., Stout, R., Swan, K and Glendinning, C. 1996 'Memories of the Bureau of Meteorology', Metarch Papers, No. 8 February 1996, Bureau of Meteorology

© Online Edition Australian Science and Technology Heritage Centre and Bureau of Meteorology 2001
Published by Australian Science and Technology Heritage Centre, using the Web Academic Resource Publisher
http://www.austehc.unimelb.edu.au/fam/0583.html