Table of Contents
---
Memories of the Bureau of Meteorology

Preface

Memories of the Bureau of Meteorology 1929–1946 by Allan Cornish

History of Major Meteorological Installation in Australia from 1945 to 1981 by Reg Stout

Four Years in the RAAF Meteorological Service by Keith Swan

The Bureau of Meteorology in Papua New Guinea in the 1950s by Col Glendinning
Foreword
Introduction
Brief History and Geography
Station Operations
Air Transport
The Port Moresby Office
Housing for Bureau Staff, Port Moresby
Staff Members and Their Families
Local Transport
Education
Entertaining, Sport and Lifestyle
Shopping Facilities
Malaria
Native Servants
Communication with Native Servants
Meteorology
Forecasting Problems in Port Moresby
Other Comments


---
Index
Search
Help
Contact us

The Port Moresby Office
The office was located in the tower building at Jackson's strip, approximately eight miles from the business centre of Port Moresby. As was the case in most remote areas. Bureau staff used DCA amenities and transport on most occasions. The screen, theodolite stand and gas filling shed were conveniently located in relation to the office which overlooked the strip. DCA aeradio (aeronautical radio station) was on the same floor of the tower building, and this was a convenient arrangement. The DCA tower control position was on a slightly higher level, and DCA administration and a kitchen were located on the ground floor.
Housing for Bureau Staff, Port Moresby
Six Met houses were located on a rocky slope on Upper Port Road in the flying boat base area of Fairfax Harbour.

A RAN fuel tank was adjacent to the town end of Met row. A wire fence was built on three sides of the row of houses as a safety fence to prevent children falling down the cliff face. The houses were tropical style buildings, and were fitted with mosquito mesh and 'boy wire' mesh. The residences were of better quality than many of the Port Moresby homes, but the houses in Met row had one serious planning defect—six homes were built on five building blocks.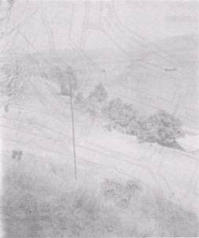 Fairfax Harbour and moored Catalina flying boat, viewed from the Met. houses, 1958.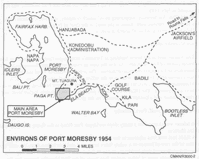 CMAN/R3000-2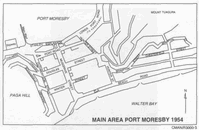 CMAN/R3000-3
Houses for the native house servants were built further up the slope, behind and away from each of the Met houses. These 'boy houses' were of a luxury standard compared with others in the Port Moresby area. Power and water were connected, and each house had a shower and 'in-ground' toilet.
---
People in Bright Sparcs - Glendinning, Colin (Col)


Cornish, A., Stout, R., Swan, K and Glendinning, C. 1996 'Memories of the Bureau of Meteorology', Metarch Papers, No. 8 February 1996, Bureau of Meteorology

© Online Edition Australian Science and Technology Heritage Centre and Bureau of Meteorology 2001
Published by Australian Science and Technology Heritage Centre, using the Web Academic Resource Publisher
http://www.austehc.unimelb.edu.au/fam/0586.html