Table of Contents
---
Chapter 9

I Introduction

II The Australian Chemical Industry

III Pharmaceuticals

IV Chemists In Other Industries

V The Dawn Of Modern Chemical Industry - High Pressure Synthesis

VI The Growth Of Synthetic Chemicals - Concentration, Rationalisation And International Links

VII Australian Industrial Chemical Research Laboratories

VIII The Plastics Industry
i Plastics processing
ii Phenol - basis of the first plastic
iii Plastics - the first generation
iv Plastics - the second generation - from petrochemicals
v Styrene monomer - the West Footscray petrochemical complex
vi The Botany petrochemical complex
vii The petrochemical complex at Altona
viii CSR - from sugar alcohol to petrochemical OXO alcohol

IX The Paint Industry

X Acknowledgements

References

---
Index
Search
Help
Contact us

Ethylene oxide and derivatives (continued)

Australia's two largest petrochemical complexes, the ICI Australia complex at Botany (Fig. 32) and the Altona Petrochemical Complex in Victoria (Fig 33), present interesting contrasts. Botany petrochemical plants grew out of a general chemicals plant by progressive introduction of plastics plants -PVC and polythene -which could ultimately be converted to a petrochemical basis and to which other petrochemicals based plants, such as ethylene oxide, chlorinated solvents and polypropylene, could be added. The company recognised the complexity of interdependence of interlocking plants essentially based on three raw materials -hydrocarbons, salt and air/oxygen; they therefore sought to maintain single management and provide the know-how by a combination of processes selected from the parent company's portfolio, other licensors and its own R&D and engineering. This maximised local contributions, employment and independent development in what is essentially an international industry, but it need not always have been the most cost-effective route to innovation.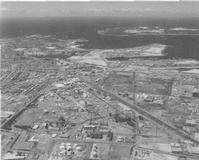 32 Aerial view of Botany Petrochemical Complex and General Chemicals Plant.
The Altona Complex, by contrast, entering the field later and virtually in one step, elected the route of a contractual framework of nine companies managed by coordination. This provided a rich flow of know-how and skills but demanded superb management. The matter-of-fact efficiency with which the project was handled and `succeeded is best reflected in the former Chief Executive's own description.[123]
---
Organisations in Australian Science at Work - Altona Petrochemical Complex; Botany Petrochemical Complex



© 1988 Print Edition pages 708 - 709, Online Edition 2000
Published by Australian Science and Technology Heritage Centre, using the Web Academic Resource Publisher
http://www.austehc.unimelb.edu.au/tia/674.html