Table of Contents
---
Chapter 9

I Introduction

II The Australian Chemical Industry

III Pharmaceuticals

IV Chemists In Other Industries

V The Dawn Of Modern Chemical Industry - High Pressure Synthesis

VI The Growth Of Synthetic Chemicals - Concentration, Rationalisation And International Links

VII Australian Industrial Chemical Research Laboratories

VIII The Plastics Industry
i Plastics processing
ii Phenol - basis of the first plastic
iii Plastics - the first generation
iv Plastics - the second generation - from petrochemicals
v Styrene monomer - the West Footscray petrochemical complex
vi The Botany petrochemical complex
vii The petrochemical complex at Altona
viii CSR - from sugar alcohol to petrochemical OXO alcohol

IX The Paint Industry

X Acknowledgements

References

---
Index
Search
Help
Contact us

The petrochemical complex at Altona
The ingredients of successful technology and technology transfer

In 1958, an Englishman, an American and an Australian quietly occupied offices at Stanhill in Queens Road, Melbourne. They were executives assigned to Standard Vacuum Oil Company, with a purpose. Their mission, to be achieved secretly, was to carry out feasibility studies on establishing a petrochemical complex at Altona, at that time a very small town some 20 km west of Melbourne. Their second and more demanding task was to negotiate with the potential participants in the Altona Complex.

The resulting arrangement was not a consortium; it was a group of companies having agreed to enter into contractual arrangements for the supply and purchase of products between them. This was unique in Australia at that time. It was the first instance in Australia of forming an industrial complex in this manner, and it worked. In subsequent years, other companies established facilities at Altona on a similar basis and there were also changes in ownership structure.

The participants. The primary initiative for the development of the Altona Petrochemical Complex came from the Standard Vacuum Oil Company of the USA. Stanvac, as it was then called, was owned equally by Mobil and Standard Oil New Jersey (now Exxon). Stanvac was dissolved under a Consent Decree with the US Government. As a result, its Altona operations are now jointly owned by Mobil and Exxon. The location of the Complex was thus determined by its proximity to the Stanvac operated oil refinery, some 4 km from the Complex site. Stanvac was resolved to build an olefins manufacturing facility and sell its products to other chemical companies, which would make the end-products required by the Australian community. It did not seek to enter directly the chemical business. This company was to be called Altona Petrochemical Company Ltd. As a result of the negotiations, a number of international chemical companies, initially all American, agreed to participate in the Complex.

The Altona Petrochemical Complex (Fig. 33) consisted of seven companies. BF Goodrich Chemical Ltd. was the first member of the Complex to begin production at Altona in May 1961. The plant was devoted to the production of vinyl chloride and various grades of PVC. The Altona Petrochemical Company Ltd. plant started up in August 1961, providing ethylene, propylene, and butadiene feedstock to the other members of the Complex. These products were made by cracking gas oil feedstock, derived from crude oil. Australian Synthetic Rubber Company Ltd. introduced technology for the production of styrene butadiene rubber and later, poly-butadiene rubber, and became the first company to manufacture synthetic rubbers in Australia. ASR is a joint company between Exxon, Mobil and Goodyear. Union Carbide Australia Ltd. introduced low density and later high density polyethylene technology and Dow Chemicals (Australia) Ltd. commenced with plants producing chlorine and caustic soda, styrene, polystyrene and ethylene dichloride over the next few months.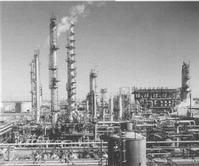 33 Petrochemical Complex, Altona Petrochemical Company, Victoria. Gas Oil Cracker built 1960.
---
Organisations in Australian Science at Work - Altona Petrochemical Company Ltd; Altona Petrochemical Complex; Australian Synthetic Rubber Company Ltd; B. F. Goodrich Chemical Ltd; Dow Chemicals (Australia) Ltd; Exxon; Goodyear; Mobil; Union Carbide Australia Ltd



© 1988 Print Edition pages 709 - 711, Online Edition 2000
Published by Australian Science and Technology Heritage Centre, using the Web Academic Resource Publisher
http://www.austehc.unimelb.edu.au/tia/675.html