Frosterley
Before proceeding with the story of the re-establishment of the Bureau it is appropriate to describe the building in which the Central Office was located from the time the Bureau was created in 1908.

The original building still stands at 2 Drummond Street, on the corner with Victoria Street. Many of those who worked in it cherish memories of the building itself and have fond memories of those they worked with.

An example of the strength of these feelings occurred when long-serving staff of the Bureau and former members of the RAAF Meteorological Service decided in 1976 to form a social club. John Lillywhite (1992) has described the circumstances of the formation of the club and how it was decided to name it Frosterley.

The following notes on the history of the building which bears the name Frosterley are based on investigations by Harry Ashton and Don Handcock, information from Sally Snowball Rowe (a descendant of the original owner), and information provided by the Australian Trade Union Training Authority which includes a report on a conservation management plan prepared in 1993 by Australian Construction Services.

In 1889 Dr William Snowball purchased the land on which Frosterley now stands. He arranged for the construction of a late Victorian two storey residence, typical of the homes of wealthy Victorians, the builder being a Mr J Snowball, thought to be either the father or brother of William. The building still contains the magnificent staircase in the entrance hall and some remarkable stained glass windows.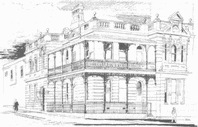 Figure 3 Sketch of Frosterley, No 2 Drummond Street, Melbourne, the headquarters of the Bureau of Meteorology from 1908 to 1974. The growth of Bureau staff after 1937 required temporary accommodation in a number of other buildings in Melbourne. A new wing was added to Frosterley in 1939. In 1974 the Bureau's Head Office was transferred to a multi-storey building at 120 Lonsdale Street.
Dr Snowball, who had practised medicine as a children's specialist at nearby 185 Lygon Street, Carlton, from about 1882, moved his practice and his family to 2 Drummond Street in 1891.
Dr William Snowball was born in Melbourne in 1853, and was educated at Melbourne Grammar School and the University of Melbourne graduating from the medical school. After gaining FRCS in Edinburgh he returned to Melbourne where he was appointed resident surgeon in the nearby Children's Hospital in Carlton. He was a prominent figure in late nineteenth century Melbourne's medical history. Throughout his working life he had a close association with the Children's Hospital and was renowned for his work in and for the hospital.
---
People in Bright Sparcs - Ashton, Henry Tamblyn (Harry); Handcock, Don; Lillywhite, John Wilson; Snowball, William; Warren, Herbert Norman


Gibbs, W. J. 1999 'A Very Special Family: Memories of the Bureau of Meteorology 1946 to 1962', Metarch Papers, No. 13 May 1999, Bureau of Meteorology

© Online Edition Australian Science and Technology Heritage Centre and Bureau of Meteorology 2001
Published by Australian Science and Technology Heritage Centre, using the Web Academic Resource Publisher
http://www.austehc.unimelb.edu.au/fam/0861.html