Table of Contents
---
Memories of the Bureau, 1946 to 1962

Foreword

Terminology

Prologue

Preface

Chapter 1: The Warren Years, 1946 to 1950
Warren the Man
Warren Joins the Bureau
Wartime Perceptions and Attitudes
Return to Civvy Street
Frosterley
People in the Bureau
Re-establishing and Reorganising the Bureau
Reorganisation of Central Office
The Position of Chief Scientific Officer
Post-War Reorganisation
The Haldane Story
Public Weather Services
The New South Wales Divisional Office
The Victorian Divisional Office
The Queensland Divisional Office
The South Australian Divisional Office
The Western Australian Divisional Office
The Tasmanian Divisional Office
Pre-war Services for Civil Aviation
Post-War Meteorological Service for Aviation
Indian Ocean Survey Flight
The Aviation Field Staff
Synoptic Analysis, Prognosis and Forecasting
Antarctic and Southern Ocean Meteorology
A Wider Scientific Horizon
Research, Development and Special Investigations
Analysts' Conference, April 1950
Instruments and Observations
Radiosondes
Radar Winds and Radar Weather Watch
Telecommunications
Climate and Statistics
Training
Publications
CSIRO
The Universities
Achievements of the Warren Years

Chapter 2: International Meteorology

Chapter 3: The Timcke Years, 1950 to 1955

Chapter 4: A Year at the Massachusetts Institute of Technology

Chapter 5: The Dwyer Years, 1955 to 1962

Chapter 6: A Springboard for the Future

Appendix 1: References

Appendix 2: Reports, Papers, Manuscripts

Appendix 3: Milestones

Appendix 4: Acknowledgements

Appendix 5: Summary by H. N. Warren of the Operation of the Meteorological Section of Allied Air Headquarters, Brisbane, 1942–45

Endnotes

---
Index
Search
Help
Contact us

Antarctic and Southern Ocean Meteorology (continued)
Alan joined the Weather Bureau in 1937, being a member of the 1937 forecasters' course described by Lillywhite (1992). His fellow students included Dick Cohen (Sir Richard Kingsland), Len Dwyer, John Lillywhite, Keith Hannay, Neil McRae and Errol Mizon.

Graduating from that course he served as an aviation forecaster at Perth and Essendon Airports and in the Hobart Divisional Office where he first met H. N. Warren, then Public Service Inspector in Hobart.

Alan served on the trans-Tasman passenger ship Awatea making surface and upper wind pilot balloon observations to support the flying-boat service which operated between Sydney and New Zealand. Due to the limited range of these aircraft, pilots had a 'point of no return' at which they were required to decide whether to proceed or return.

The observational program at Heard and Macquarie Islands included radiosondes and pilot balloon observations and three hourly surface observations. We in CAWDS were eager to make use of these observations. We had a special base chart prepared extending from west of Heard Island to east of Macquarie Island and from the latitude of southern Australia to the Antarctic coastline. Apart from a few observations from passenger and cargo ships plying between South Africa and Australia, and the occasional whaler, there were no reports on our charts over the Antarctic or Southern Ocean except observations from Heard and Macquarie Islands.

The sparseness of observations in the Southern Ocean meant there was no point in analysing more than one chart per day but we compensated by plotting the three hourly surface observations in the form illustrated in Figure 11. By plotting these observations in time sequence from right to left we were able to simulate, in a general fashion, the usual movement of synoptic systems from west to east.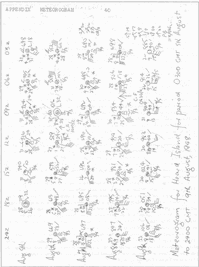 Figure 11 Example of a meteorogram from a paper by Gibbs (1949). Because of the paucity of data from the Southern Ocean at that time three-hourly observations from Heard and Macquarie Islands were plotted in this form.
From various sources, such as the reports of the British ship Discovery, I had learnt that the oceanic convergence ran roughly west-east in the vicinity of Heard Island and realised that this was a region likely to be the home of the classical polar front on which vigorous cyclogenesis was likely to occur.
We soon found that our expectations of cyclogenesis and frontogenesis in the Heard Island area were correct. I had many discussions with Reg Clarke, who was sceptical of the use of the polar frontal model, but Uwe Radok, after a voyage in the ANARE ship Tottan in the Southern Ocean on which he received the radio broadcasts of our analyses, confirmed that synoptic analyses based on the polar front model were consistent with the weather he encountered. Reg was undoubtedly a brilliant theoretician but his synoptic analyses often left much to be desired.
---
People in Bright Sparcs - Clarke, Reginald Henry; Cohen, Dick (Kingsland); Dwyer, Leonard Joseph; Hannay, Alexander Keith (Keith); Kingsland, Richard; Lillywhite, John Wilson; McRae, John Neil; Warren, Herbert Norman


Gibbs, W. J. 1999 'A Very Special Family: Memories of the Bureau of Meteorology 1946 to 1962', Metarch Papers, No. 13 May 1999, Bureau of Meteorology

© Online Edition Australian Science and Technology Heritage Centre and Bureau of Meteorology 2001
Published by Australian Science and Technology Heritage Centre, using the Web Academic Resource Publisher
http://www.austehc.unimelb.edu.au/fam/0908.html