Table of Contents
---
Radio Technical Officers

Foreword

Acknowledgements

Preface

Introduction

Chapter 1: The Early Years

Chapter 2: The Training School

Chapter 3: Equipment Installation Records

Chapter 4: The 'Techs' in Antarctica

Chapter 5: The 'Techs' Tell Their Stories

Appendix 1: 'Techs' Roll Call

Appendix 2: Trainee Intakes

Appendix 3: 'Techs' Who Have Served in the Antarctic Region

Appendix 4: Summary of Major Installation Projects

Appendix 5: Summary of Major Equipment Variously Installed at Sites and Maintained by Radio Technical Officers


---
Index
Search
Help
Contact us

Chapter 2: The Training School (continued)

Who could possibly forget the instructors who somehow or other made 'met techs' out of us. John (Mac) MacDermott was there for so long he was part of the furniture; one of the old school our 'Mac'—not a great sense of humour but pretty dedicated in his own way. 'Mac' saw a lot of 'techs' go through his hands and whenever 'met techs' reminisce you can bet London to a brick that 'Mac's' name will come up—the price of fame, I guess.

Noel Barrett took over from 'Mac' for awhile and was always interesting to talk to. Noel eventually left the Bureau but will always be remembered as being a good 'tech' who could also instruct. Reg Carter was from the same mould.

When it came to doing the observations (as the Observer (Radio)s used to do), Arthur Shirley, Aub Douglass, Bernie McCormick and Harry Alderdice come to mind. They were all good fun.

And, of course, the names of supervisors Kevin Lomas and Bruce Retallack are well-known to all 'techs', particularly so by those who got the call "wanted in the office" . . . cripes!

In more modern years, Paul Froude is a well known popular figure. I am indebted to him for the invaluable Training School records which he has provided at Appendix 2.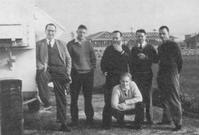 Observers (Radio) Course No 13, 1961, at Bowes Avenue, Niddrie, Victoria. Left to right, John MacDermott, Trevor Donald, Joe Grey, Jannes Keuken (crouching) Ray Clarke, Jack Byrne. (Photograph courtesy of Trevor Donald)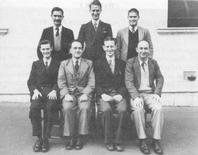 Observers (Radio) Course No 1, 1949. Left to right standing, Jack Jolly, Neville Franks, Neville McLeod; sitting, Les Williams, Dick Cohen, Max Hylton, Tom McGrath. (Photograph courtesy of Neville McLeod)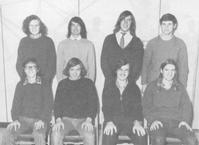 Technician-in-training 71-4, 1971. Left to right standing, Kim Briggs, Andy Alkemadem Laurie Porter, Chris Lord; sitting, Steve CourbÍt, Bernie Keogh, Russell Brook, Bob Lazdins.
---
People in Bright Sparcs - Lomas, K. C. (Kev); Retallack, Bruce James


Clarke, R. 1999 'Stories of the Bureau's Radio Technical Officers from 1948', Metarch Papers No. 14 February 1999, Bureau of Meteorology

© Online Edition Australian Science and Technology Heritage Centre and Bureau of Meteorology 2001
Published by Australian Science and Technology Heritage Centre, using the Web Academic Resource Publisher
http://www.austehc.unimelb.edu.au/fam/1180.html