Table of Contents
---
Chapter 6

I Construction During The Settlement Years

II The Use Of Timber As A Structural Material

III Structural Steel

IV Concrete Technology

V Housing

VI Industrialised Pre-cast Concrete Housing

VII Ports And Harbours

VIII Roads

IX Heavy Foundations

X Bridges

XI Sewerage

XII Water Engineering

XIII Railways

XIV Major Buildings

XV Airports

XVI Thermal Power Stations
i Steam Power Stations Using Brown Coal
ii Fabric Filters for Coal Fired Power Stations
iii Thermal Electricity Generation in Queensland
iv Conversion of Kwinana Power Station from Oil to Coal Firing
v Remote Area Power Supply Alternatives in Western Australia

XVII Materials Handling

XVIII Oil Industry

XIX The Snowy Mountains Scheme

XX The Sydney Opera House

XXI The Sydney Harbour Bridge

XXII Hamersley Iron

XXIII North West Shelf

Sources and References

---
Index
Search
Help
Contact us

Fabric Filters for Coal Fired Power Stations
In the early 1970s a need arose in the power generation industry for a cost effective, high efficiency technology to collect particulate emissions in the exhaust gas from coal fired power station boilers. To meet this need James Howden Australia developed a range of advanced fabric filter dust collectors. Fabric filters trap particulate emissions in the particulate dust cake built up on the inner surface of a filter bag. Particulate removal efficiencies of 99.99 per cent are achieveable, resulting in an optically clear stack. Over 25 man years of research and development was undertaken in Australia to develop these advanced fabric filters.

The fabric filter installation at Eraring Power Station in New South Wales which collects the particulate emissions from 4x660 MW coal fired boilers is shown in Fig. 65. The fabric filters collect up to 2,500 tonnes/day of particulate. Together with the fabric filter installation at Bayswater Power Station in New South Wales, also supplied by Howden, they represent the two largest fabric filter installations in the world. The success of these installations has led to widespread acceptance of the technology in Australia and by the early 1990s over 30 per cent of all public thermal generating capacity in Australia is expected to utilise fabric filters for air pollution control. The Howden fabric filter designs are licensed to a network of companies throughout the world. An ongoing commitment to research and development will ensure continued leadership in this field of air pollution control.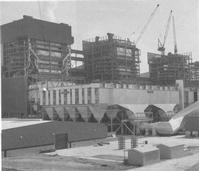 65 Fabric Filter Installation at Eraring Station in New South Wales
Sound Attenuators for Power Station Discharge Stacks

The increasing size of electricity generating plant combined with the growing awareness of the need to protect the environment has resulted in requirement to reduce the noise emitted from power station stacks into the surrounding community.
The gas exhausting from coal fired boilers is hot and can contain considerable quantities of dust and other contaminants. Sound attenuators operating in this environment require to be of a design such that the acoustic performance is not degraded by the dust and of a mechanical design which is capable of surviving in an erosive and corrosive atmosphere.
James Howden Australia recognised the growing need for equipment of this type and undertook an extensive product development programme. This included the building of a silencer test facility which is possibly the largest in the world, capable of measuring the performance of full size modules of the largest silencers currently required (Fig. 66).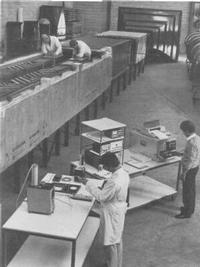 66 Silencer Development Facility at Howden Research Laboratories, Sydney
---
Organisations in Australian Science at Work - James Howden and Co. Australia Pty Ltd; thermal power stations, named; thermal power stations, named

People in Bright Sparcs - Sutherland, K. N.



© 1988 Print Edition pages 402 - 403, Online Edition 2000
Published by Australian Science and Technology Heritage Centre, using the Web Academic Resource Publisher
http://www.austehc.unimelb.edu.au/tia/398.html