Table of Contents
---
Chapter 6

I Construction During The Settlement Years

II The Use Of Timber As A Structural Material

III Structural Steel

IV Concrete Technology

V Housing

VI Industrialised Pre-cast Concrete Housing

VII Ports And Harbours

VIII Roads

IX Heavy Foundations

X Bridges

XI Sewerage

XII Water Engineering

XIII Railways

XIV Major Buildings

XV Airports

XVI Thermal Power Stations

XVII Materials Handling

XVIII Oil Industry
i All Welded Storage Tanks
ii Insulated Fuel Oil Pipeline
iii Wartime Concrete Tanks
iv The Cobia 2 Sub-sea Completion
v Mackerel and Tuna Platforms
vi Snapper Post-Trenching Plough
vii The North West Shelf Project Plough

XIX The Snowy Mountains Scheme

XX The Sydney Opera House

XXI The Sydney Harbour Bridge

XXII Hamersley Iron

XXIII North West Shelf

Sources and References

---
Index
Search
Help
Contact us

The North West Shelf Project Plough
The 134 km trunk-line which carried gas and condensate from North Rankin 'A' platform to shore posed a major technical challenge for the North West Shelf Project which led to the development of the biggest pipeline stabilising plough used anywhere in the world to date. Conventional approaches could not handle areas of outcropping limestone along the pipeline route and could have led to the pipeline being, in some areas, suspended from pinnacles of hard material. Though the concept of an undersea plough was not new, it had rarely been used and generally on short lines.

Extensive development of the concept was undertaken including construction and testing of one-fifth and one-third scale models. The final version weighed 340 tonnes. It straddled and supported the 1016 mm trunkline, lowering the line into the trench as it was pulled by a lay-barge. Ploughing was carried out in November/December 1982 at an average rate of 3.7 km per day, taking 10 days less than scheduled and saving $30-40 million over conventional alternatives (Fig. 73).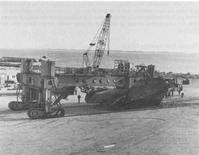 73 Pipeline Stabilising Plough developed for the North West Shelf Project as it underwent land trials near Perth in 1983.
---
Organisations in Australian Science at Work - Snowy Mountains Hydro-Electric Scheme

People in Bright Sparcs - Gorrie, A. W.



© 1988 Print Edition page 419, Online Edition 2000
Published by Australian Science and Technology Heritage Centre, using the Web Academic Resource Publisher
http://www.austehc.unimelb.edu.au/tia/421.html