Table of Contents
---
Chapter 7

I The First 100 Years 1788-1888

II Railways

III Motorised Vehicles

IV Aviation

V Modern Shipping
i Shipbuilding Industry
ii Changes in the Shipping Industry Through Improved Technology

VI Innovative Small Craft

VII Conclusion

VIII Acknowledgements

IX Contributors

References

---
Index
Search
Help
Contact us

Modern Shipping (continued)

The experience of Sir John Williams in the early 1930s, when he introduced mechanical grab buckets which were adapted to work on a ship's derrick to discharge bulk cargo on the Melbourne wharf is evidence of this drive for better efficiency. An excerpt from So Ends This Day by Captain Sir John Williams makes the point:
For a start the grabs were a bit disappointing as they could be worked only on a slewing derrick and since ordinary vessels' derricks do not go that way something had to be done. Nevertheless I was fascinated at the thought that maybe they could be brought to operate like a sling of cargo and thus do away with shovelling into tubs or baskets as was then the fashion.

Looking at them with our prince of blacksmiths, Daniel Scott, we conceived that if we cut a hole in the head-plate and ran a winch wire through it we could make them pass from one derrick over the hold to a second one over railway wagons on the wharf. Dan had an oxyacetylene outfit with him so we cut the things then and there, made the second wire fast and off it went. All done in an hour and that afternoon, silly as it sounds, I applied for a patent and got it.

The patent reduced the cost of unloading coal from three and threepence per ton to eleven pence and gave us all the coal work in Melbourne and other bulk cargoes as well; a great step forward; we held the business for years and from it sprang Fleet Forge Pty. Ltd., the foundation being the maintenance of the grabs.[4]
Bulk handling of liquids, minerals, sugar, wheat, coal etc., created the need for special facilities and in many cases the development of special purpose ports such as Port Hedland, Weipa, Westernport, Point Henry and many others.
Although much of the material handling system design was imported using overseas experience, there are numerous examples of special requirements in Australian bulk handling techniques which necessitated original design solutions or major adaption.
Australian shipping companies were among the first to use the roll-on roll-off technique (Fig. 33) and Bass Trader, Princess of Tasmania and Troubridge are three examples of vessels designed to take advantage of this special technique. Early RO/RO vessels, the Bass Trader being cargo only, the other two passenger/cargo were built in Australia in the 1959-1961 period and operate on the Australia coastal trade. They represent examples of the modern concept of a convenient door to door operation and were to the forefront internationally in pioneering the RO/RO concept. While the RO/RO system had been evolving in the U.K., U.S.A. and Canada, the Australian marine industry recognised its advantages and suitability to coastal operations and showed enterprise by adapting the technique to Australian coastal trading.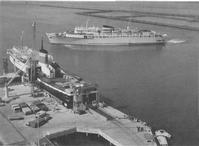 33 Roll-on roll-off vessels Bass Trader foreground alongside and Princess of Tasmania background manoeuvring (photo courtesy Australian National Line)
---
People in Bright Sparcs - Campbell, Robert; Williams, Sir John



© 1988 Print Edition pages 519 - 520, Online Edition 2000
Published by Australian Science and Technology Heritage Centre, using the Web Academic Resource Publisher
http://www.austehc.unimelb.edu.au/tia/514.html