Table of Contents
---
Chapter 7

I The First 100 Years 1788-1888

II Railways

III Motorised Vehicles

IV Aviation

V Modern Shipping
i Shipbuilding Industry
ii Changes in the Shipping Industry Through Improved Technology

VI Innovative Small Craft

VII Conclusion

VIII Acknowledgements

IX Contributors

References

---
Index
Search
Help
Contact us

Modern Shipping (continued)

The Bass Trader vessel was fitted with twin Napier-Delta engines which was a unique application of aeronautical technology to a commercial vessel. This arrangement provided a compact machinery space and thereby enhanced the vessels' carrying capabilities while, in recognition of the higher wear and tear with high speed engines, provision was made for rapid withdrawal/replacement of the engines during its regular service operations on a repair by replacement and overhaul basis. The costs associated with this novel engine selection were high. Nevertheless, it demonstrates the enterprise of Australian industry in attempting an innovative solution.

Evans Deakin & Company Pty. Ltd., of Brisbane, built the RO/RO vessel Troubridge as a stern loaded, deep sea passenger/vehicle ferry for service between Port Adelaide, Port Lincoln and Kingscote on Kangaroo Island. Shipping was under severe economic pressure and this rapid loading/unloading vessel was designed to enable the ship more time at sea than in port. Denny Brown stabilisers and a Voith-Schneider lateral thrust unit at the bow gave additional manoeuvering ability when berthing. The bow propulsion unit was powered by a diesel engine.

Some RO/RO vessels were designed to accommodate particular port facilities and angle ramp ships like the Tricolor were able to handle material at terminals such as Fremantle.

It is noteworthy that the first new built container ship in the world was constructed in an Australian shipyard, this being the M.V. Kooringa (Fig. 34), built by the N.S.W. State Dockyard in 1964. While the U.S.A. had largely pioneered the concept, this had been done up to that date by the conversion of existing ships to carry containers.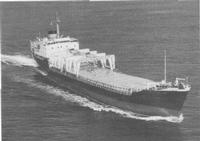 34 Kooringa, the first all-new container ship built in Australia (photo courtesy TNT Shipping and Development Limited)
A further example of innovation in Australia was the building in 1969 of the Darwin Trader for Australian National Line (A.N.L.). This was a special design of Bulk/Container ship, whereby alternate holds were given over to the carriage of either containers or bulk cargo. The ship was specially conceived to carry general cargo in containers northwards, while carrying bulk cargo plus empty containers on the return southwards voyage.
The importance of bulk cargoes such as coal and iron ore, became evident to Australian shippers and in 1943 the first bulk carrier was introduced when BHP launched their 8,000 Iron Duke and Iron Monarch (Fig. 35) to transport minerals from Whyalla to Newcastle. These vessels followed by many other bulk carriers, dominated the interstate trade and a large number were built at the Whyalla Shipbuilding and Engineering Works, NSW State Dockyards at Newcastle and Evans Deakin & Co. Pty. Ltd.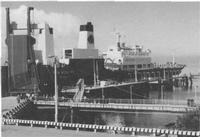 35 Iron Monarch, an Australian built roll-on roll-off steeal slab carrier in service with BHP (photo courtesy BHP transport)
---
Organisations in Australian Science at Work - Australian National Line (A.N.L.); Evans Deakin and Company Pty Ltd, Brisbane; N.S.W. State Dockyard

People in Bright Sparcs - Campbell, Robert



© 1988 Print Edition pages 520 - 521, Online Edition 2000
Published by Australian Science and Technology Heritage Centre, using the Web Academic Resource Publisher
http://www.austehc.unimelb.edu.au/tia/515.html