Table of Contents
---
Memories of the Bureau, 1946 to 1962

Foreword

Terminology

Prologue

Preface

Chapter 1: The Warren Years, 1946 to 1950
Warren the Man
Warren Joins the Bureau
Wartime Perceptions and Attitudes
Return to Civvy Street
Frosterley
People in the Bureau
Re-establishing and Reorganising the Bureau
Reorganisation of Central Office
The Position of Chief Scientific Officer
Post-War Reorganisation
The Haldane Story
Public Weather Services
The New South Wales Divisional Office
The Victorian Divisional Office
The Queensland Divisional Office
The South Australian Divisional Office
The Western Australian Divisional Office
The Tasmanian Divisional Office
Pre-war Services for Civil Aviation
Post-War Meteorological Service for Aviation
Indian Ocean Survey Flight
The Aviation Field Staff
Synoptic Analysis, Prognosis and Forecasting
Antarctic and Southern Ocean Meteorology
A Wider Scientific Horizon
Research, Development and Special Investigations
Analysts' Conference, April 1950
Instruments and Observations
Radiosondes
Radar Winds and Radar Weather Watch
Telecommunications
Climate and Statistics
Training
Publications
CSIRO
The Universities
Achievements of the Warren Years

Chapter 2: International Meteorology

Chapter 3: The Timcke Years, 1950 to 1955

Chapter 4: A Year at the Massachusetts Institute of Technology

Chapter 5: The Dwyer Years, 1955 to 1962

Chapter 6: A Springboard for the Future

Appendix 1: References

Appendix 2: Reports, Papers, Manuscripts

Appendix 3: Milestones

Appendix 4: Acknowledgements

Appendix 5: Summary by H. N. Warren of the Operation of the Meteorological Section of Allied Air Headquarters, Brisbane, 1942–45

Endnotes

---
Index
Search
Help
Contact us

Post-War Reorganisation (continued)
L. J. (Len) Dwyer had joined the Bureau as a meteorological assistant grade 1 in September 1937 and had been a trainee meteorologist in the 1937 course which John Lillywhite describes in Metarch Papers No 4 (see Lillywhite, 1992). Len was in charge of the Bureau's Training Section when I was a student in the forecasters' course in 1940, and was in control of the RAAF Meteorological Service's Mobile Meteorological Flights which provided service to AIF artillery in the war in the Pacific. After demobilisation in October 1946 Len worked in the Aviation Section of the Bureau's Central Office before being recruited to the position of Chief Clerk where he became involved in aspects of the Bureau's reorganisation.

The fourth person to be involved was young Tom Hall who had joined the Bureau as a messenger boy in 1936. He returned to the Bureau in January 1946 after serving with the RAF flying Typhoon ground attack aircraft, his efforts being recognised by the award of a DFC. He resumed his career with the Bureau as a clerk in the Personnel Section and was heavily involved in assisting in getting the civilian Bureau back into action. Tom says that "considerable effort was required to arrange the permanent Public Service appointment of RAAF Meteorological Service staff who had RAAF meteorological duties equivalent to civil weather officers, observers grades 1 and 2, radiosonde operators and mechanics". Tom also remarks that "in order to keep the meteorological services operating a considerable number of persons had to be temporarily employed". Tom further states that "over that period all personnel functions, including transfers to and from all stations in Australia and adjoining territories were vested in Central Office in Melbourne".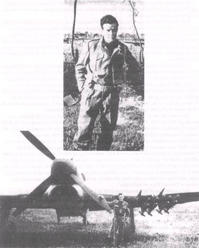 Figure 7 Tom Hall, another of the Bureau's wartime heroes, and the RAF Typhoon aircraft which he piloted as a 21 year old in action in Europe. Starting in the Bureau as a messenger boy in the 1930s, Tom made a significant contribution to the development of the Bureau in post-war years. The above photographs appeared in the Melbourne Age of 23 October 1995 accompanying an article by Tom's granddaughter Carla Duggan for which she won a competition award.
The contribution of the management staff in a technical organisation such as the Bureau is often overlooked. In the early post-war days it was vitally important.
---
People in Bright Sparcs - Dwyer, Leonard Joseph; Hall, Thomas Taylor (Tom); Lillywhite, John Wilson; Warren, Herbert Norman


Gibbs, W. J. 1999 'A Very Special Family: Memories of the Bureau of Meteorology 1946 to 1962', Metarch Papers, No. 13 May 1999, Bureau of Meteorology

© Online Edition Australian Science and Technology Heritage Centre and Bureau of Meteorology 2001
Published by Australian Science and Technology Heritage Centre, using the Web Academic Resource Publisher
http://www.austehc.unimelb.edu.au/fam/0872.html