Some Titbits from Dave Grainger
David George Grainger (aka Grave Danger); born 22 January 1933; educated at Handsworth Grammar School, Birmingham; apprentice draughtsman GEC Witton, Birmingham; called up for national service on completion of apprenticeship in September 1954.

Being by this time already married and a father, I found that the salary for a 'nasho' was not very salubrious so I enlisted as a regular in the RAF, both for the extra cash and the choice of trade, Air Radar Fitter, which at that time was a four year engagement. In the end, due to inducements etc of a financial nature, I finished up on a 12 year stint serving at Yatesbury, West Raynham, Leeming, Northcoates, Woomera and Coltishall. Whilst at Leeming in 1956 I changed my trade to that of Guided Missile Fitter.

On my return to the UK after a spell at Woomera from January 1962 to July 1964 firing Bloodhound SAMs, I was put back to work on old steam aircraft. After about nine months a corporal in the next section by the name of Sid Owen came up to me and said "here, you've been to Australia, what do you think of this ad?". I was recruited in England via this advertisement in the Daily Express. I then purchased my discharge after eleven and a half years and arrived in Melbourne with my wife and four and a half kids on 17 December 1966.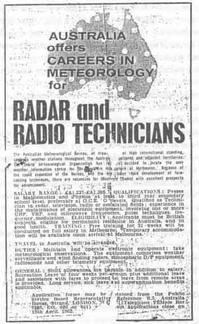 Advertisement in the Daily Express, 1965.
We were met at Essendon Airport by Wally Bott of Head Office Personnel Section together with a Commonwealth chauffeured car. We had to wait for about an hour while the driver called for a station wagon to help transport us with all our associated luggage to the Commonwealth Hostel at Rooks Road, Nunawading, which was to be our home for the next nine months. On the way, I had to ask the driver to turn off the heater. He said that the temperature had dropped from 32°C to 21°C that day and he thought we may be cold; when we left London about 36 hours earlier it was freezing.
Whilst awaiting the start of the Observer (Radio) course I was sent to Hoddle Street, under Brian Baker, and put to work wiring a new swept gain unit for the 277F radar. I remember that the Engineer in charge of radar in the 'Pink Palace' at that time was a John Ryan. His directions on how to get to the workshop included taking a bus from Russell Street. What he failed to tell me was that the buses were on strike.
The course started in February 1966 at 501 Swanston Street, and our 'tech' instructor was John George who had just returned from an Antarctic trip and who was on a promised posting if he did just this one more thing. Meteorology instructors included Arthur Shirley and Aub Douglass. Aub also did a pretty good job with the hair clippers. On the course with me were three others from the UK—Wally Lloyd-Jones, John Surgee and another named Parker. Also there were three 'locals' in the shape of Ken Richards, Trevor Rogers and Alf Svensson. The course ended in September 1966. I was posted to Cloncurry where I took over from Russ Henry as acting Senior Observer (Radio). Bruce Aubrey was the RMO for Queensland; Archie Shields was Regional Director.
---
People in Bright Sparcs - Shields, Archibald John


Clarke, R. 1999 'Stories of the Bureau's Radio Technical Officers from 1948', Metarch Papers No. 14 February 1999, Bureau of Meteorology

© Online Edition Australian Science and Technology Heritage Centre and Bureau of Meteorology 2001
Published by Australian Science and Technology Heritage Centre, using the Web Academic Resource Publisher
http://www.austehc.unimelb.edu.au/fam/1225.html