Table of Contents
---
Radio Technical Officers

Foreword

Acknowledgements

Preface

Introduction

Chapter 1: The Early Years

Chapter 2: The Training School

Chapter 3: Equipment Installation Records

Chapter 4: The 'Techs' in Antarctica

Chapter 5: The 'Techs' Tell Their Stories
Trevor Donald Tells It All; Life in the Bureau from 1947 to 1989
Ray Clarke Looks Back
Some Memories from Ralph Bulloch
Peter Copland Works in Meteorological Electronics
Some Titbits from Dave Grainger
A Very Modest Tale from Alf Svensson
Adrian Porter Pulls No Punches
Jack Tait Recalls
Some Stories by Colourful Freddie Soutter
Some Snippets from Noel Barrett
Stephen CourbÍt Has His Penny Wworth
And a Flyspeck or Two from Lenny Dawson
Some Interesting Reminiscences from Jannes Keuken
Brief Stories from Phil Black
From Gloria West, Wife of the Late Bob West
The Life and Bureau Times of Graham Linnett
Tales Out of School from Bill Hite
Peter Copland on Cyclone Tracy
Peter Broughton Tells the Story of Maralinga

Appendix 1: 'Techs' Roll Call

Appendix 2: Trainee Intakes

Appendix 3: 'Techs' Who Have Served in the Antarctic Region

Appendix 4: Summary of Major Installation Projects

Appendix 5: Summary of Major Equipment Variously Installed at Sites and Maintained by Radio Technical Officers


---
Index
Search
Help
Contact us

Some Stories by Colourful Freddie Soutter
I first joined the Bureau in October 1953, in Melbourne, and after a crash course of four weeks was transferred to Cloncurry as Observer (Radio) to operate and maintain the radiosonde and 277F radar, and also to perform pilot balloon observations, etc. In July 1954 I was transferred to Laverton, near Melbourne, where the same equipment was installed and where I now undertook shift work in the meteorological office. Also, under the guidance of Bill Brann, OIC Facilities in Head Office, I started to use the radar for weather watching work. In November 1955 I was transferred to Townsville where the 277F radar was then being installed, although I did not actually participate in its installation. I did, in later years, work with the installation party from Melbourne on the WF44 radar on Mount Stuart west of Townsville.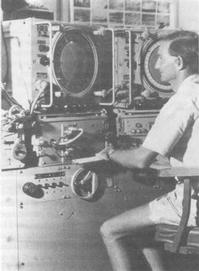 Fred Soutter operating the 277F radar at Townsville, Queensland, in 1958.
The old balloon filling room at Townsville was a model for lack of safety having boxes of caustic soda stored on one side and, on the other, boxes of ferro silicon, both chemicals used for the generation of hydrogen; and the balloon was filled between those boxes with their sharp edges. The hydrogen was brewed in two A size cylinders mounted on tripods out in the open on the edge of a gutter used to drain water from the swampy area surrounding the building. It was often necessary to walk around in mud up to the ankles in both making the hydrogen and releasing the balloon. One actually got to the building from the built-up road by a built-up path and once off that path it was swampy ground. Snakes were and possibly are still prevalent on Townsville aerodrome; I had many an encounter.
Cyclone Agnes on 6 March 1956 provided my first experience of a tropical cyclone. It was also a first for the Bureau's evolving radar network. I learnt much about radar observations from Cyclone Agnes along with Tom Sleath. Tom had his camera with him and we mounted it on a Magnetron transit crate sitting on a chair and, with the operations room packed with RAAF officers, took photographs until the power failed.
I was instrumental in processing that film and making enlargements of the photographs. Tom and I also carried out height measurements of the outflow of rain cloud in the eye of the cyclone; these measurements were later confirmed by the crew of a DC4 en route from New Guinea to Brisbane. However, being the Senior Observer (Radio), I was initially reprimanded by Head Office for these experiments despite them being efforts to gain an insight into the cyclone; I should, instead, have been concentrating on the very difficult method of coding up the information. However, after Head Office had completed an analysis of the radar data, my reports and photographs, and data from other sources, I was acknowledged and requested to submit further details of the work that Tom and I had done. The Bureau's handbook of Cyclone Detection by Radar evolved from these reports and photographs. Tom and I were also acknowledged in name at a world wide Cyclone Symposium held in Brisbane in 1956. I later developed a method of calculating the wind velocity to a high order of accuracy in the rain bands of a cyclone.
---
People in Bright Sparcs - Brann, Harold Walter Allen Neale (Bill)


Clarke, R. 1999 'Stories of the Bureau's Radio Technical Officers from 1948', Metarch Papers No. 14 February 1999, Bureau of Meteorology

© Online Edition Australian Science and Technology Heritage Centre and Bureau of Meteorology 2001
Published by Australian Science and Technology Heritage Centre, using the Web Academic Resource Publisher
http://www.austehc.unimelb.edu.au/fam/1242.html