Table of Contents
---
Chapter 6

I Construction During The Settlement Years

II The Use Of Timber As A Structural Material

III Structural Steel
i The Entertainment Centres at Sydney and Brisbane
ii The Centrepoint Tower, Sydney
iii The Merivale Rail Bridge - Brisbane

IV Concrete Technology

V Housing

VI Industrialised Pre-cast Concrete Housing

VII Ports And Harbours

VIII Roads

IX Heavy Foundations

X Bridges

XI Sewerage

XII Water Engineering

XIII Railways

XIV Major Buildings

XV Airports

XVI Thermal Power Stations

XVII Materials Handling

XVIII Oil Industry

XIX The Snowy Mountains Scheme

XX The Sydney Opera House

XXI The Sydney Harbour Bridge

XXII Hamersley Iron

XXIII North West Shelf

Sources and References

---
Index
Search
Help
Contact us

Structural Steel

Construction in iron started in Australia early in the 19th century and one of the first iron bridges built in the country was the Barwon River Bridge at Geelong, completed in 1859 to a design by William Fairbairn & Sons of Manchester, England. The main span was supported by twin wrought iron boxes and at 64.0 metres was the longest span in Australia until the opening of the Fitzroy River Suspension Bridge at Rockhampton in 1881.

An iron bridge over the Yarra River at Hawthorn was completed in 1861 and is the oldest surviving metal bridge in the country. The last forty years of the 19th century saw frantic activity in the building of railways throughout Australia and many significant iron and steel bridges were built. Australian engineers have pioneered some significant developments in the use of structural steel. The North Fitzroy gas holder (1923) and McKillops Bridge over the Snowy River (1931), both in Victoria, were pioneering uses of welding to join structural steel members. In 1931 composite steel girder and concrete deck bridges were completed in Queensland and Tasmania. These were the first applications of this now widely accepted method of constructing bridge decks and building floors.

Many notable steel structures have been built in Australia over the last 100 years. Although it is not possible to list all the significant structures, the following abbreviated list will give some indication of the range of the use of steel.
Bridges

Sydney Harbour Steel Arch Bridge (NSW).

Westgate Bridge over the Yarra River, a cable-stayed steel box girder main span (VIC).
Merivale Bridge over the Brisbane River, a steel tied-arch with cable suspended
deck (QLD).

Power Stations

The structures supporting boilers, coal handling plant, auxiliary plant and the enclosure of the turbine halls to major power stations in all States. (Fig. 7)

Process Plants

The structures for process plants are constructed almost entirely of steel. Some of the more notable such plants constructed in Australia are alumina works and aluminium smelters, steel works and petroleum refineries.

Buildings

Factory buildings, warehouses and some multi-storey buildings are fabricated from steel sections. In recent times, large enclosed stadia roofed with steel frames without intermediate supports have been build in several cities. Some notable examples of steel buildings are:

BHP House in Melbourne -a large steel-framed building.

Entertainment Centre, Sydney.

Boondall Sports & Entertainment Centre, Brisbane.

Port Facilities

The mineral-handling equipment, loading jetties and loaders that have been constructed in Western Australia for loading iron ore and in Queensland and N.S.W. for loading coal, are major steel structures. The steel-framed roofs of the bulk sugar sheds built at ports along the Queensland coast are some of the largest such structures built.

Towers

Large steel-framed towers for TV and radio communications have been built throughout Australia. Three of the most notable are:

Centrepoint Tower, Sydney.

Radio masts. N.W. Cape, W.A.

Omega Radio Navigation mast, Gippsland, Vic.

Off-shore Structures

The drilling and production platforms built in Bass Strait (Vic) and on the N.W. shelf in W.A. are some of the largest and heaviest steel structures ever fabricated.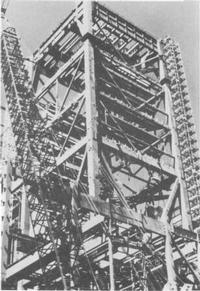 7 Loy Yang A Boiler Steel Structure
---
Organisations in Australian Science at Work - thermal power stations, named

People in Bright Sparcs - Cameron, I. G.



© 1988 Print Edition page 322, Online Edition 2000
Published by Australian Science and Technology Heritage Centre, using the Web Academic Resource Publisher
http://www.austehc.unimelb.edu.au/tia/321.html