Table of Contents
---
Chapter 7

I The First 100 Years 1788-1888

II Railways
i Location of the Railway
ii Track
iii Bridging and Tunnelling
iv Dams for Engine Water
v Locomotives and Rolling Stock
vi Signalling and Telecommunications
vii 1900/1988-The New Century
viii The Garratt Locomotive
ix Steam Locomotive Practice
x Motor Railcars
xi Signalling
xii Electric Tramways
xiii Electric Railways - Direct Current
xiv Electric Railways - 25 kV ac
xv Diesel Traction
xvi Alignment and Track
xvii Operations

III Motorised Vehicles

IV Aviation

V Modern Shipping

VI Innovative Small Craft

VII Conclusion

VIII Acknowledgements

IX Contributors

References

---
Index
Search
Help
Contact us

Electric Tramways
The first challenge to the steam railway came from neither the internal combustion engine nor, in strict terms, even from another railway vehicle. It was the urban electric tram.

After its introduction in Sydney (1890) and Hobart (1893), electric tram development in Australia, often under local Government control, followed the general trend throughout the world: it spread rapidly in only 30 years. Having invested in a large cable operated network at a time when other cities used horse and steam traction, Melbourne was the last large Australian city to fully electrify its tramways; the essential cores of all other city networks were running before the First World War.

The Melbourne cable tram network was believed to be the world's largest, reaching by 1923 17 double track routes totalling 75 route -km, with 12 engine houses powering 26 cables up to 918 km long, with 592 gripper cars (dummies) and 598 hauled cars (Fig. 7). While its basic technology was American, the system was (except for the cables themselves) almost entirely Melbourne-built, with many minor innovations in its detailed engineering. These included a slot brake, never used in Melbourne but applied by the San Francisco and Dunedin, N.Z. systems.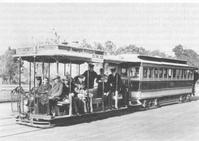 7 Melbourne cable 'dummy' and car. these cable trams operated from 1885 until 1940 (photo courtesy Metropolitan Transit Authority of Victoria)
One of the promoters was Francis B. Clapp, father of Sir Harold Clapp, the famous Commissioner of the Victorian Railways. The innovative Melbourne cable tramway engineer was George Duncan, M.I.C.E., and it is a measure of his professional stature that he advised Brisbane against it, in favour of electric tramways, at the peak of the Melbourne system's success.[9]
All key elements of tramway technology were imported, mostly from the U.S.A. (often via the English licensees) as developed technology and standard equipment produced in volume.
low voltage (600 V dc) overhead supply. Originally this was generated and distributed as dc, for there were few city wide power systems and in early days the trams were a major load. Later, as the tramways stretched beyond the limits of dc, generation and distribution switched to ac, with rotary converter sub-stations and later still, supply from the city's grid via mercury arc and silicon rectifiers.


Single contact wire overhead supply by trolley pole, and rail return -at least in theory. For underground pipes often shared in this, and control of stray return currents and the electrolysis they caused became a little known specialist technology (especially in Melbourne). No Australian tramway system used low frequency actraction; a few overseas ones did.


the series wound dc motor with direct rheostatic control, and later for paired cars (especially in Sydney) Spragues' system of multiple unit control by flexible 'train wire' jumpers and


when cars increased in mass, became bogied, and were coupled in multiple, the air brake.
The form of the vehicles varied greatly as the industry flourished, but in terms of basic technology the variations were cosmetic and incidental. There was little on the Australian electric tramway that was unique, or that had not been tried elsewhere and widely reported in the contemporary street railway press, before it was applied here. In 1926 1000 km of tramway route existed in Australian streets, of which 78 per cent was electrified; the Sydney network claimed to be the world's largest under a single administration.
---
Organisations in Australian Science at Work - Victorian Railways

People in Bright Sparcs - Clapp, Francis B; Clapp, Sir Harold; Duncan, George; Macfarlane, Ian B.



© 1988 Print Edition pages 471 - 472, Online Edition 2000
Published by Australian Science and Technology Heritage Centre, using the Web Academic Resource Publisher
http://www.austehc.unimelb.edu.au/tia/466.html