Table of Contents
---
Chapter 7

I The First 100 Years 1788-1888

II Railways
i Location of the Railway
ii Track
iii Bridging and Tunnelling
iv Dams for Engine Water
v Locomotives and Rolling Stock
vi Signalling and Telecommunications
vii 1900/1988-The New Century
viii The Garratt Locomotive
ix Steam Locomotive Practice
x Motor Railcars
xi Signalling
xii Electric Tramways
xiii Electric Railways - Direct Current
xiv Electric Railways - 25 kV ac
xv Diesel Traction
xvi Alignment and Track
xvii Operations

III Motorised Vehicles

IV Aviation

V Modern Shipping

VI Innovative Small Craft

VII Conclusion

VIII Acknowledgements

IX Contributors

References

---
Index
Search
Help
Contact us

Electric Railways - 25 kV ac
The third largest Australian suburban system is Brisbane which, save for the introduction of diesel electric locomotives, remained a classic Edwardian-era railway with steam locomotives pulling antique wooden coaches for over 40 years after these had disappeared elsewhere. A 1950s plan to electrify at 1500 V dc produced 112 new stainless steel trailer cars (replacing some 1880 era stock!), limited resignalling, and some widening for additional trackage. After a change of Government, overhead wires were not to appear for another two decades.

In the 1970s, the Queensland Railways began work to thoroughly modernise and electrify the Brisbane system at the post-war international main line standard voltage of 25 kV ac 50 Hz single phase. The pilot electrification (commissioned in 1979) was run with only one, simple, high capacity substation and the final suburban electrification (completed in 1984) with just one more. It is now (1986) being extended north to Caboolture and will be extended south to the Gold Coast on a new 160 km/h railway and north to Gladstone and Rockhampton on a 120 km/h electric main line.

The large suburban project included connecting the South Side system with a new bridge (the Merivale Bridge, a very advanced Australian designed thinwall box diaphragm arch with cable suspended deck); (Fig. 10) extensive track renewal and lowering in cross-city tunnels; major bridge and station improvement; complete re-signalling from a single area control centre; and construction of a fleet of sixty 3-car electric train units involving a quantum jump in vehicle length from 17 m to 23 m. The engineers responsible for the project were D. Mendoza (later Commissioner) and H. N. Walker.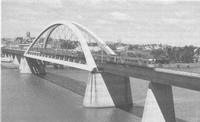 10 Brisbane electric train (25 K.V. ac) crossing the Merivale Bridge (photo courtesy Queensland Railways)
The Brisbane project used a mixture of imported and Australian technology. The civil engineering was wholly Australian, the signal engineering and much of the equipment likewise, with UK influence. The sub-stations and overhead also reflected British influence but achieved substantial economies from local innovations in details; the trains were of Swedish design but except for some power control equipment, Australian made. They were also fully air-conditioned and represented a major step forward not only in passenger amenity, but also in industrial design and a concept of 'crash-worthiness' (as distinct from mere structural strength.)
In order to distribute equipment and mass, each unit was arranged as a 'married three' with 8 of its 12 axles motored, a single set of power control equipment, and solid-state power electronics for traction and auxiliaries (the 'marriage' of cars was later followed by Sydney with Goninan built dc stock). Having opted for the very latest in solid state phase angle control equipment (at a time when many overseas railways were still using mechanical tap changing on transformers, and even rectifying ac to dc in order to switch it with obsolescent camshaft equipment) Brisbane accordingly had to apply correspondingly modern techniques to immunise signalling and telecommunications against harmonics and interference.
---
Organisations in Australian Science at Work - Queensland Railways

People in Bright Sparcs - Macfarlane, Ian B.; Mendoza, D.; Walker, H. N.



© 1988 Print Edition pages 477 - 478, Online Edition 2000
Published by Australian Science and Technology Heritage Centre, using the Web Academic Resource Publisher
http://www.austehc.unimelb.edu.au/tia/471.html