Table of Contents
---
Chapter 7

I The First 100 Years 1788-1888

II Railways

III Motorised Vehicles

IV Aviation
i Local Inventions, Research, Design and Manufacture
ii The Development of Air Transport: The Trail Blazers
iii The Services
iv The Royal Flying Doctor Service
v Ground Aids and Safety Innovations
vi From Aviation to Modern Shipping

V Modern Shipping

VI Innovative Small Craft

VII Conclusion

VIII Acknowledgements

IX Contributors

References

---
Index
Search
Help
Contact us

Local Inventions, Research, Design and Manufacture (continued)
In the 1920s aircraft design and manufacture began to move from the 'heroic' age of achievements by individuals to commercial activities by specialised aircraft companies and our review must follow this trend.

In March 1927 de Havilland Australia was set up in South Melbourne to sell and support the U.K. built de Havilland Moth light bi-plane. It moved in 1930 to Mascot Airport in Sydney and diversified into component manufacture. The company established in 1938 a complete aircraft manufacturing capability, which started with the Tiger Moth aircraft, followed in 1942 by a production line of the Dragon twin engined communications aircraft. In the same year, de Havilland received an order to manufacture the twin-engined Mosquito fighter-bomber and a new plant was established at Bankstown.[10]

In 1942, in response to a Department of Air requirement for 126 gliders, the company also undertook the first local design task of a towed-glider capable of carrying six fully armed troops. It was a high wing cantilever monoplane, with a wing span of 59 ft. and made almost entirely of local materials. The first flight of the prototype took place at the R.A.A.F. base at Richmond on 14 June 1942 less than 3 months after the issue of requirement. A second prototype was built and flown in November 1942. After some changes to the production version, 6 production gliders were delivered in 1943, at which stage the Department of Air requirement was cancelled.[11]

The Mosquito production of 212 aircraft lasted until 1948, but prior to its cessation, de Havilland received an order for fifty Vampire jet fighters. The first Australian Vampire flew in 1949 and this was followed by other versions of this aircraft (fighter bombers and trainers) bringing the total to some 250 aircraft.[12]

Innovation on this programme consisted of several major local modifications, including extensive changes to the air intakes to accommodate the larger engines.

Also in 1946, the company decided to develop a commercial feeder liner, called the Drover (Fig. 25). It was the first all-metal local design to enter civil use in Australia and it had its first flight at Bankstown on 23 January 1948. Twenty Drovers were completed and some remained in commercial service for over 35 years. This aircraft was used extensively by the Royal Flying Doctor Service.[13]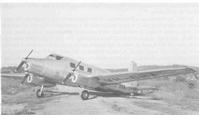 25 DHA Drover. First all-metal local design to enter civil use in Australia 1948 (photo courtesy Hawker De Havilland Holdings Ltd)
We have now to return to the mid-thirties to the next independent commercial enterprise in Australian aviation. It was the formation of the Commonwealth Aircraft Corporation (CAC) on 17 October 1936. [14]
It arose from the initiative of Essington Lewis, who was at the time the Chief General Manager of BHP, and who formed a syndicate of BHP, Broken Hill Associated Smelters and G.M.H. to undertake a study leading to the establishment of military aircraft and engine manufacturing facilities in Australia. These companies were later joined by I.C.I., Electrolytic Zinc and Orient Steam Navigation Company.
---
Organisations in Australian Science at Work - Australia. Department of Air; Broken Hill Associated Smelters Ltd (B.H.A.S.); Commonwealth Aircraft Corporation (C.A.C.); de Havilland Australia; Electrolytic Zinc Pty Ltd (EZ); General Motors Holden; Royal Australian Air Force (R.A.A.F.); Royal Flying Doctor Service

People in Bright Sparcs - Lewis, Essington; Schaetzel, Stanley S.



© 1988 Print Edition pages 505 - 506, Online Edition 2000
Published by Australian Science and Technology Heritage Centre, using the Web Academic Resource Publisher
http://www.austehc.unimelb.edu.au/tia/499.html